5 reasons to get excited about Fuji Rock 2018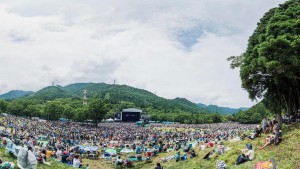 The best music festival in the Far East, and possibly the known world, is upon us yet again my friends. So while I couldn't possibly list all the reasons to get excited about Fuji Rock this year, let's examine a few.
The 20th anniversary of Fuji Rock at Naeba.
 When Fuji Rock moved its location to the mountains of Naeba Ski Resort in Yuzawa, Niigata, 20 years ago, the true magic of the festival came to life. While there is always great music each and every year at the festival, the true headliner for me at Fuji Rock every year is Naeba and the town of Yuzawa. It's a special atmosphere to be a part of. There's splendor to be found throughout, whether napping atop of the mountains, where the small Day Dreaming stage is located, rocking out with thousands to world famous bands on the massive Green Stage with its' mountainous backdrop or simply conversing with locals in the neighboring town of Yuzawa. The location always makes Fuji Rock special and this 20th year celebration of Fuji Rock at Neaba will be no different.
The Unfairground at Fuji Rock
While it is a bit of a downer that The UK's Glastonbury Music Festival is taking a year off in 2018, it means one of their premier attractions will get to make its Fuji Rock debut this year. I'm talking about the Unfairground. If you don't know exactly what an Unfair is, you best get in the know via our friends at Fuji Rock and the official Unfairgrounds website.  As they put it, the Unfair is "infused with equal measures of anarchist spirit and satirical wit, Unfairground is at the cutting edge of festival culture. Best known for their giant welded artwork, interactive diversions, burlesque performances and sprawling installations." Combine that with a plethora of bands, DJs and sideshows to create an experience that "WILL BEND YOUR MIND & STEAL YOUR SOUL!" Sign me up!
The People
Music acts as the framework of Fuji Rock, but it's the people that are the heart and soul of the festival. Away from the hustle and bustle of ordinary Japanese life, that's fueled by canned coffee and bullet trains, Fuji Rock lets people relax and enjoy being together as one for the duration of the festival. From your fellow campers, to the friendly staff working the many stalls selling delicious local food; from the wide eyed artists wandering the fest, to the kids playing or making crafts at booths scattered throughout the festival, there exists a positive, serene vibe that Fuji Rock and its inhabitants create. This group feeling or vibe simply can't exist in the real world. It's an opportunity for like-minded people from all around Japan and many parts of the world to congregate together; a chance to chat, laugh, dance, smile, jump, scream, rock out and rejoice at attending Fuji Rock.
 Kodo at Fuji Rock!
 In further celebrating Naeba, Niigata and Japanese culture, the world-renowned Taiko drum group Kodo makes its Fuji Rock debut in 2018. They have played and given seminars all around the world, coming on 40 years now. The serenity and spirituality of the mountains of Naeba will only be enhanced by the transcendental beat of the centuries old Japanese taiko drums, played to perfection by one of the world's top groups. So, while you may initially be skeptical of a Japanese drum group at a rock festival, I assure you, Kodo live in the mountains of Naeba is an experience not to be missed.
The Rest of the Music
 Not since Fuji Rock 2001 have we seen the fest headlined by a folk rock legend of the past and a Rap God of today. Back in 2001, the fest was headlined by Neil Young and Eminem, this year we have an equally impressive duo of Bob Dylan and Kendrick Lamar.
For Dylan, Fuji Rock 2018 marks his 101st performance in Japan, as for King Kendrick, we last saw him at Fuji Rock in 2013  rocking the smaller White Stage, having to compete with Bjork for an audience. He was impressive then, but has grown so much in 5 years that he most certainly will be closing down the main stage Saturday night, captivating the bulk in attendance at the fest. Another artist making a return to Fuji after a 5 year hiatus is Skrillex. While the popularity of Skrill and his brand of brostep has been on the decline since his peak some 5 years ago, it will be interesting to see how his music has progressed and if he can still rock a crowd like he did during his smasher of a set during a thunder storm 5 years ago.
Other big names this year include, this generation's white rapper, Post Malone, Japanese mega groups Sakanaction and Brahman. As well as Friday headliners, American Rap/Rockers N.E.R.D, New York based Grammy award winning rockers, Vampire Weekend and Scotland's Synth Pop superstars Chvrches.
As much as the headliners are the biggest draw for many at the fest, I usually prefer the smaller, more intimate stages. So, while the full lineup hasn't been announced as of yet, for those like myself who prefer things a little more intimate, we already have many great bands to look forward to. Some of my picks include Aussie Soul/Blues band, The Teskey Brothers, Japanese Jazz Funkers, More the Man, 60's-era Soul singer Carla Thomas and Japanese master digerdooist GOMA, playing with his Jungle Rhythm Section.
I know I've only just scratched the surface on the many reasons to get excited about Fuji Rock this year, so leave us a comment below and tell us what you're looking forward to at Fuji Rock 2018!
Text by James
Photo from fujirockfestival.com