A Quick Look at Fuji Rock Musical Trends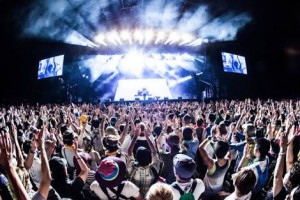 Looking back on the years of Fuji Rock, it's always interesting to look at trends or changes that have helped shape the festival's vibe. For example, this year's outing is anchored by the usual big-name headliners, but seems to be underlined by a stronger showing than ever before of young up-and-coming Japanese acts.
Fuji Rock has always been known as a celebration of musical acts from all over the world, but the inclusion of more and more Japanese acts in recent years could be echoing the current rise in strength and influence of Japanese music around the world.
Perhaps due to their presence on the world stage and travel from other countries to the festival, it's still mainly the overseas artists invited to Fuji Rock that often end up getting top billing and taking the spotlight from equally famous Japanese artists appearing here. Taking into account the overall lineups recently however, this could be something that might push more Japanese acts into headliner status and transform the Fuji Rock experience in years to come.
While that's a gradual change that many festival goers are sure to be picking up on, this time I'd like to reflect back on previous years and perhaps start a discussion on some trends of past headlining acts.
There will always be the veterans; Red Hot Chili Peppers, Beck, Foo Fighters, Noel Gallagher, as well as this year's returnee Bjork are all very familiar faces to the Fuji Rock main-stage lineup over the years.
Big names like these are sure to be a main draw for fans to return to the festival, but I think more credit goes to the variety that the main headlining acts showcase that ends up setting the core vibe of the festival each year.
Of course, the appeal of the Fuji Rock experience lies with much more than the three to five big-name acts that appear on the main stage, but we do rely on headlining acts to close out each day and wow us with consistently over-the-top performances. What kind of role, though, do these top artists really play in drawing crowds to the festival? If we take a look at top-billed acts from previous years, are there perhaps any patterns that come to the surface?
2016 Sigur Ros, Red Hot Chili Peppers, Beck
2015 Foo Fighters, Muse, Noel Gallagher, Deadmaus
2014 Franz Ferdinand, Arcade Fire, Jack Johnson
2013 Nine Inch Nails, Bjork, The Cure
2012 The Stone Roses, Noel Gallagher, Radiohead
2011 Coldplay, The Faces, The Music, The Chemical Brothers
2010 Muse, Roxy Music, Massive Attack
The possibility of an interesting pattern or trend in headlining acts is just something to ponder, but do you notice any interesting artist combinations that had a major draw for you, or notice a particularly weak/strong/unusual or memorable year because of the main acts that appeared?
Any trends or big changes to the festival (The end of the Orange Court?) or lineup (big-name artist cancellations?) over the years that had a big impact on you? We'd like to hear them too! Let us know in the comments.
Photo by 粂井健太
Text by Park Baker