Not a Walkabout: Lots of Music Without Alot of Work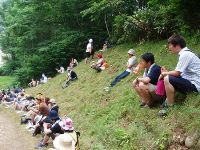 Let's be honest, you can probably have a pretty good festival just sitting on your ass in front of the Green Stage. By my estimation, a good number of people (dare we say the majority) actually do just this. On Friday, a nice lineup of Boredoms < Biffy Clyro < Jake Bugg < James Blake < and Sigur Ros aint a bad way to pass the day.
Boredoms promise to bring an interesting drum arrangement and enough noise to "wake up the" the angry rock spirits inhabiting the Green Stage. Biffy Clyro close many festivals so this early afternoon spot is a bonus and Jake Bugg and James Blake are all around musicians who put on a nice groove. And when it gets dark, Sigur Ros, will bring a nice light show which can be enjoyed laying all the way back.
The added bonus of sitting on your butt all day and into the late evening is you will have some extra energy for when the real fun starts which is after midnight at the Palace of Wonder.
If you are panning to sit on your arse all day there's a good chance you will need to get up at some point to relieve yourself or get something to nibble on when your're feeling peckish. If this is the case, here are are some tips about bands you can check out, no more than 10-mins walking from that mud splattered tarp you left in front of the Green Stage.
Red Marquee: Courtney Barnett 4pm. Does she really need an introduction? For the past 12 months she's been a nonstop world tour spurred by the international music press. This well known Breeders fan is creating a new sound that will have grunge fans gurgling with joy. Mid-afternoon Red Marquee sets are notoriously short, so its definitely worth a peak.
Naeba Shokudo: Teh Takosan 10:40PM When you eventually leave Green Stage stop by that little noodle stand which also serves as a stage as The Tacosan promise to deliver quite a set. Part James Brown and motown fund, this band will get you shaking for another hour before you hey, stop by the Crystal Palace for Con Brio 1:30AM and a real taste of funky stuff all the way from San Francisco.
Sean
photo courtesy fujirockers.