6 Tips For Enjoying Fuji Rock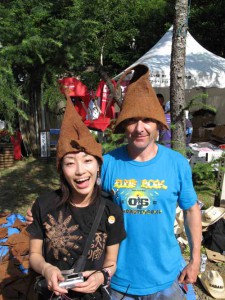 With just a few weeks to go, many people are getting jittery moored in micro decisions such as "what to take", "what to leave",  "where to meetup", and "rum or vodka". Well, we are here to tell you that everything is gonna be just fine. Just bring your ticket and a little cash. Foul weather gear can be bought outside the venue, and nothing really matters once the music starts. We are pretty sure you are gonna have a a great time. And here are a few tips to make the event even more wonderful.
"Get there on Thursday"
I can't emphasize how important this is. I know it might be hard because of work schedules but arriving early will land you a primo camping spot and get you acclimated to the venue. If you've never been to Fuji Rock before, Thursday's microcosm will help your orient for the 4-day rager that ensues.  As a corollary to this rule, leaving on Monday morning is a must because the music and good times don't end till 5AM.
"Get up early" 
Putzing around the tent or at the hotel breakfast bar may be fun but in my opinion, some of the best up and coming acts at Fuji Rock play very early. How about 10:20AM? That's when Taiwan's Sunset Rollercoaster is performing at the Red Marquee. And in case you don't know them, read this little primer. Actually, just a few days ago they were Saturday night headliners the Playtime Festival in Mongolia which attracted oh somewhere between 10,000-20,0000 people.
If that weren't enough reason to get a early start, let me say that some of other notable early birds at the Red Marque have been Black Keys who played to an audience that was only about 6 rows deep. Mogwai also had an early start and so did Parquet Courts. All stellar selections in my opinion. Ok, but if you are really turtles migrating back to the festival both Shame and Stella Donnelly have noonday sets at Red Marquee that shouldn't be missed.
"Find a Siesta Spot"
When the sun gets too high overhead, its best to seek the shade of the forest. High up on the slope in front of Gypsy Avalon is a nice place to sit and relax with a few friends. And when the conversation begins to drift off, you can wander around the NGO village which has a few things going for it.
First is a massage tent which offers hourly rates. Second is a highly recommended Atomic Café which was inspired by the movie and the no-nuke movement. As for the fare they server, there is tasty venison sausage, venison skewers, coffee, and few other morsels.
There's other good areas to take a rest, like newly cleared areas just off the boardwalk. Heck you can even just pitch your chair outside the Blue Galaxy tent and get a mid-afternoon snooze. And at night, a few of my friends huddle their camping chairs outside of the Red Marquee to not so quietly rave throughout the night.
"Keep it Moving"
The urge to rest can get overwhelming sometimes and you might be disposed to watch whatever artist graces the Green Stage. Many peeps embrace this strategy and it does work if you are in a largish group or simply want to make Fuji Rock a romantic weekend.
But against my better judgement, I have gotten off my arse to trudge across nearly the whole festival to see the last few songs from Feist, Dirty Projectors, Sparks, etc. Each voyage has
"Be Friendly"
Yeah, we know how manners can go by the wayside when you are rushing to get to Courtney Barnett's show, but there's still no reason to push or splash your beverage on someone's backside. If you want to get to the front just play follow-the-leader and zigzag your way amongst the crowd. You will make it because audience.
On the same note, take time to chat with the person next to you or the artist selling goods as one of the stalls. You might make a friend or a contact in another part of Japan which you can later visit. And some stalls can be quite generous if they know you are a repeat customer.
Artists also deserve some respect and attention. If you see them setting up an artwork tell them how much you appreciate it or even lend a helping hand if needed. Most of the boardwalk workers are volunteers and they do this work out of a love alone.
"Stay Up Late"
The temptation to turn in early can be overpowering but I often find that taking a seat and a little snort of whisky can keep you going.
"And Finally"
A modicum of decorum is encouraged and helps large gatherings operate easily, but in the words of the sage and late Fuji Rocker Joe Strummer, "there are no rules". So just go out there and have fun. It's only rock and roll after all.
Text:Sean S
Photo: Sean S