Surfing the Sunset Rollercoaster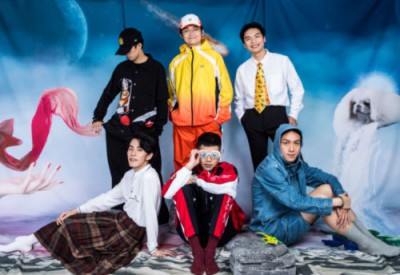 Taiwanese indie darlings, Sunset Rollercoaster, are not what you expect. They don't thrash or shoegaze behind dim live house lighting, but instead prefer the precision of a recording studio, in this case, one built in former cinema. And while their music may be suited to the Newport Jazz Festival, loyal college students sing along to every song, and passionately stream their music on headphones.

This six-piece band first came on the scene in 2011 with the self-released album "Bossa Nova". It was a immediate hit with local and international audiences, earning the band an Asia tour and festival invitations such as Summer Sonic. Their first release leaned towards rock music with a predilection for synth. It borrowed from other indie stalwarts, Yo La Tengo, and still earlier, The Velvet Underground. The pressures of early success and a lack of comfort with the band's sound led it to go on immediate a hiatus, with member heading off in different creative directions.
Five years later, the band reformed around guitarist and songwriter Tseng Kuo Hung (曾國宏) and drummer Lo Tsun Lung (羅尊龍). They added a new bass player Chen Hung Li (陳弘禮), keyboardist Wang Shao Hsuan (王少軒), and percussionist Chang Hao Chia (張浩嘉) radically changing their sound from the 80's synth heavy sounds to a cooler jazz flavor with just a slight veneer of shoegaze.
Throughout it all, the band chose to sing in English, a rarity in Taiwan where only around a handful of indie acts eschew the local language. As it turns out, singer/guitarist Kuo is the only member of the band fluent in English. International audiences not doubt appreciate his choice of language, and in previous interviews, he sheepishly admits to finding it easier to write lyrics in English.
For the uninitiated, Sunset Rollercoaster's musical style is akin to jazz as the emphasis is upon riffing and interacting with other musicians. The music builds and crescendoes quietly, unlike post-rock. As for their follow up EP, "Jinji Kikko" there is an unmistakable 80s soul-funk influence. The backstory to this album is it is the band coming back together with core members. In media interviews, Kuo has said that lyrically, it's a love story about two lovers who were separated but reunite through traveling back in time. In a way, this story mimics the band's return to recording and touring.
A for the band's latest album, "Casanova", released in March 2018, it continues the band's musical travels, mastered at Abbey Road Studios in London with the help of an overseas friend of the band.As they continue to surf along, Sunset Rollercoaster, promises to add as many sounds and influences as possible.
Text: Sean Scanlan
Photo: Sunset Rollercoaster, Fuji Rock