Curated Day: Long-Haul Friday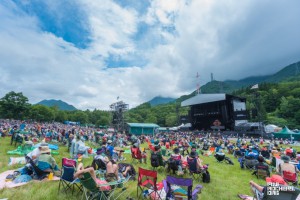 Only a couple weeks until the start of Fuji Rock, and if you're like me, you've started trying to pencil in all your "must-see's" in the overwhelming stage schedule. For me, the 2017 Fuji Rock outing has a particularly high number of "must-see's", none more than opening day. Previously, James laid out a very tempting and relaxing plan for us on the first day of the festival, but I'm going to put my money on using all my energy at the start, no matter how high the risk of spending Saturday and Sunday with tired legs might be.
If you're up for running back and forth between each of the far corners of the festival grounds from morning to night, Friday is the day to do it. Riding high on the initial energy you'll have at the start of the festival, put your walking shoes on because here's one way to catch a great range of variety on opening day:
DATS – Red Marquee – 11:00
Kick your Fuji Rock 2017 off with Japanese up-and-coming electronic rockers DATS on the Red Marquee. They've been getting attention as part of a group of stylish young Japanese rock outfits making waves on the scene, but their brand of dancy pop rock sung in English, especially evident in recent singles "Mobile" and "Queen", stands out from the crowd.
DE DE MOUSE – Red Marquee – 12:30
Grab something cool to drink, but don't venture far from the Red Marquee, or you'll miss De De Mouse's cut-and-paste scatterbrained futuristic electropop. What is sure to be chock-full of quickfire, delightfully choppy pop songs from producer Daisuke Endo's latest "Dream You Up" album, this high-energy performance will give you that mid-day boost you need to take on the rest of the day.
OGRE YOU ASSHOLE – Field of Heaven – 14:30
Make the long trek to the Field of Heaven stage, but not before a pitstop at the Tokoro Tengoku area near the White stage bridge to grab something delicious (Ginger Pork Rice Bowl, please) to chow down on while you dip your toes in the nearby cold stream. After that, catch chill and breezy (and interestingly named) Japanese rockers Ogre You Asshole. I've yet to dig deep into their recent material, but I'm confident they'll deliver a similar kind of effervescent rock vibe as they did on big 2010 hit, "Balance".
GALLANT – Red Marquee – 16:00
The long journey back to the Red Marquee will be made worth it by Gallant's ultra smooth R&B. The Maryland native will make his first appearance at Fuji Rock and bring his falsetto and laid-back mood which will be a perfect soundtrack to the late afternoon.
HIKASHU – Cafe De Paris – 17:30
For something completely different, head to Cafe De Paris to catch wacky and experimental new wave rockers Hikashu. Active since the 1970s, Hikashu's oddball Japanese style and offbeat approach in their live performances are sure to amaze and entertain.
THE XX – Green Stage – 19:20
Perhaps the highest anticipated big-stage act for me this year are English trio The XX. No doubt their reputation precedes them, but look for me pushing my way to the front of the Green Stage to get lost in their minimalistic dreamy pop. Pleeeeeease, please play the "I See You" standout "Replica".
GORILLAZ – Green Stage – 21:30
Fuji Rock is all about exploring the smaller stages and areas, but just this once on Friday night, you've gotta park yourself in front of the Green Stage because missing a Gorillaz set would be a gigantic shame. You won't have to travel far between stages this time, so make sure to get a good spot. A Gorillaz fan from the start, I've been getting into their recent album more and more (especially "Sleeping Powder") but honestly am interested to find out what back-catalog numbers they'll bring out. More than anything, I have no idea what to expect from their live performance, so I'm really looking forward to this one!
CHAI – Rookie A Go-Go – 24:00
Possibly the hottest rookie group this year, pop rock girl-group Chai have made a big smash at the American festival SXSW's Japanese showcase. After catching their amazing sets multiple times in various Tokyo venues, I'm super excited to see them on the Rookie A Go-Go stage on Friday and will be cheering for them to be invited back in coming years.
IMAI (Group Inou) – Cafe de Paris – 4:00am
By this time, you'll need either a rest or an energy boost, but bear with me. You've got some time, so I suggest hitting a late night bar to recharge. Grab one for the road and take an early morning stroll way back over to Cafe de Paris to catch Japanese electronic/hip-hop duo Group Inou's IMAI (now a solo artist following the group's possibly permanent hiatus). Taking control of the production side of the group's unique sound, IMAI's pulsing, video-game-sounding instrumentals and ultra high energy will make trekking to the far reaches of the festival grounds at 4:00am well worth it.
by Park