Night Tempo Cranks Up the… Tempo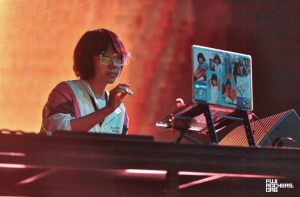 Don't call Jung Kyung-ho a DJ. Better known as "Night Tempo", the self-described "retro culture curator" painstakingly handpicks and injects new energy into 80's Japanese pop hits. At the forefront of bringing Showa-era Japanese pop music onto the world scene, Night Tempo has put his own glossy spin on classic hits, making the catchy even catchier. The huge return in popularity of Mariya Takeuchi's "Plastic Love" can be attributed to Night Tempo's own energetic rework, making it accessible to a new generation of social media users both in Japan and abroad.
Trailblazing a new genre known as "Future Funk", the South Korean artist's sound is distinguished by airy 80s Japanese pop vocals laid over disco-fueled beats that give the sound a fresh, neo-retro vibe.  This allows him to capitalize on the nostalgia factor that these pop songs hold for many Japanese people, while the modern spin transforms them into danceable earworms for a younger international audience.
Now, Night Tempo has expanded his approach to include a range of new collaborations with Showa-era pop idols themselves, as well as other vocal contributors.  Though his exciting new material does not rely as much on familiar pop idol samples, it still comes bundled in a bright-as-neon retro package that remains distinctively "Night Tempo" style.
First appearing on the Gan-ban stage at Fujirock a few years back, it seems that Night Tempo has now become a regular fixture at the festival, steadily working his way to up larger stages since. With the recent boom of Japanese "City Pop" (which can largely be attributed to Night Tempo himself), it will be interesting to see how much further he can climb up the ranks this year. If his appearance in 2019 in any indication, he'll be again performing multiple times throughout the weekend, so be sure to catch his danceable set if you want to feel a wave of Japanese pop nostalgia with a modern twist.
(Photo by Kenta Kumei)