Red Hot Chili Pipers Bring the Bagrock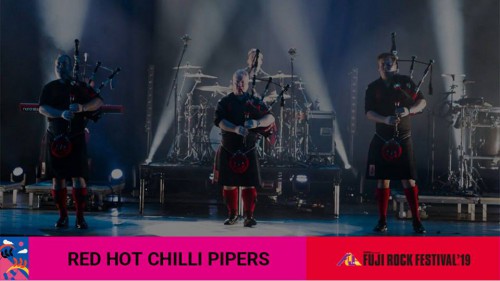 Not familiar with bagrock? Let Red Hot Chili Pipers give you a lesson.  Life is short, listen to bagpipes.
A lot of acts at a festival like Fuji Rock tend to take themselves very seriously. They are artists aiming to show the crowd the power of their art. Scotland's Red Hot Chili Pipers are artists, credentialed artists. Their awards and degrees are for something not often associated with rock festivals though. They are for bagpipes and Scottish drumming, which may not seems like two of the most exciting things in the world.  However, when you combine superb traditional musicianship with a slew of crowd pleasing pop covers (and a name like Red Hot Chili Pipers), you end up with something that is decidedly unique, a thing not taking itself too seriously but managing to be endlessly fascinating and enjoyable.
As a band, Red Hot Chili Pipers have been bringing their brand of Scottish fun to wider and wider audiences since their formation in 2002, and will be making their Fuji Rock debut this year.  They definitely have the resume to back up their claim to be 'the most famous bagpipe band on the planet'. Not sure how stiff the competition is there, but it is a hard assertion to argue considering they can boast a number of sold-out world tours, triple platinum sales for their album and DVD Blast Live, and nearly 5 million YouTube views for a video for their live version of Avicii's Wake Me Up. That is a lot of views for a bagpipe cover.
There is a chance you when you first saw their name on the Fuji Rock lineup, you may have wondered why RHCP wasn't headlining the fest.  It may have taken you a moment to note the spelling and realize that these are pipers, not peppers. Don't be ashamed, you would not be alone. Twitter has a whole list of personal confessions of arriving at their gigs to find out Flea wouldn't be onstage anytime soon, and almost every story concludes by confessing that after the emabassment subsided they actually really, really enjoyed the gig. Imagine that. If you could have a great time after having your Anthony Kiedis dreams dashed, imagine how much fun it would be if you knew what you were in for.  I for one am looking forward to their set.
So if you are able to stop caring about looking cool for an hour or so and just admit that something as cheesy as all this in also immensely enjoyable, this RHCP set is sure to be a blast.  
Kilts optional.
Watch them in action here