INTERVIEW: Fuji Rock's Latin-ska-cumbia connection!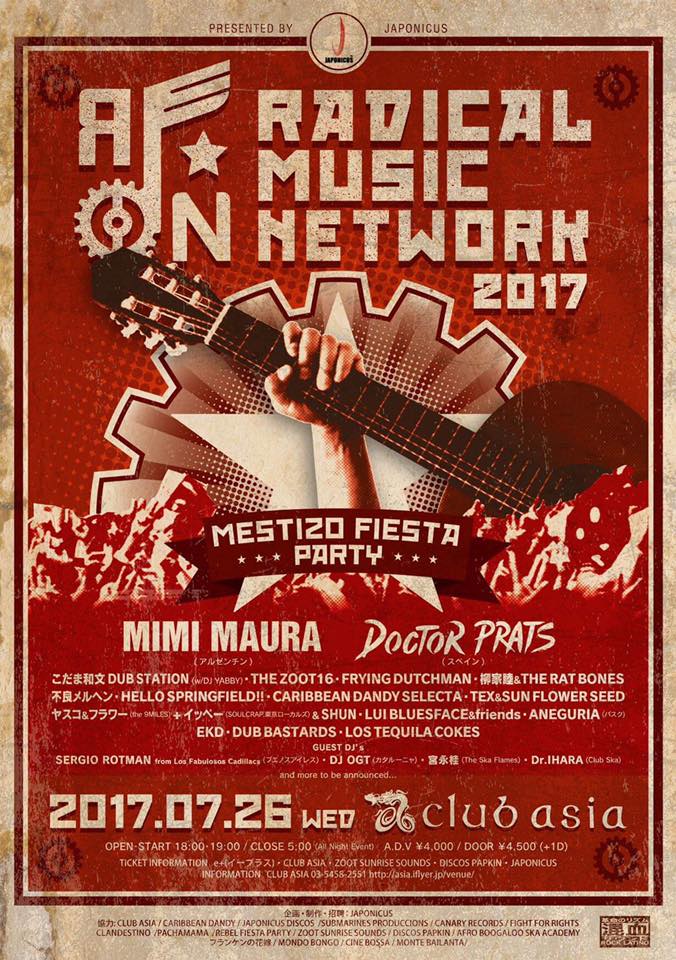 An interview with Shogo Komiyama, the promoter who brings danceable madness to the Crystal Palace…
And the story behind Fuji Rock's biggest pre-party, Radical Music Network!
If you are a fan of Fuji Rock's Crystal Palace Tent, if you have danced like crazy to an amazing band playing ska, cumbia or Latin music, you are probably also a fan of the Radical Music Network event series and the promoter Japonicus. You just might not know it yet. Japonicus has been working with Fuji Rock and Smash Japan for more than 15 years, bringing Spanish rock stars like Manu Chao, Fermin Muguruza, La Grossa Sorda, great cumbia bands like LA's Very Be Careful, and some of Japan's best "mestizo" bands. You'll see them especially at the Crystal Palace and Cafe de Paris stages. Japonicus was founded in 1999 by Shogo Komiyama, who was born in Argentina to Japanese parents, and is now one of the biggest pipelines bringing Latin music to Japan. He believes in music as a radical social force for good, and is one of the most friendly and down-to-earth guys you will ever meet — just like the musicians he works with. This year he's bringing several acts to Fuji Rock, and he's also preparing for his annual pre-Fuji Rock party, Radical Music Network at Club Asia in Tokyo on July 26 (event info here). He took some time for an email interview to tell us what's coming up.

La Grossa Sorda at 2016 Fuji Rock, Crystal Palace Tent
Q: How did the Radical Music Network start?
Shogo: We started Radical Music Network with a band called The 3Peace, a Japanese rebel band formed by Hiroki Hara (ex King Bee), Kaori Nagano (ex Soul Flower Union) and Tetsuya Kajiwara (ex The Blue Hearts). We decided to do a rebel music event in Japan after The 3Peace met the Argentinian band Todos Tus Muertos in `99 at Fuji Rock Festival, and then met Manu Chao while touring in Mexico. But the main reason was, because there was no representative event of this kind of music in Japan at that time.
The first Radical Music Network was held in 2000. In the beginning, it was a tour and the lineup included The 3Peace, Brahman, Fermin Muguruza Dub Manifest (Basque Country), Pealout, Blue Beat Players, Kishidan, Newrotica, and others.
Q. Mestizo music is something quite unique, and you've worked so hard to build this scene in Japan. Please explain what you mean by "mestizo" music?
Shogo: Mestizo is a term traditionally used in Spain, the Philippines and Latin America which originally meant a person of combined European and Amerindian or Pacific Islander descent, regardless of where the person was born. That`s why now mestizaje (in Spanish) or Mestizo in rest of world, means in latin rock music scene the combination of any other music genre, regardless of where the music was born.

Manu Chao in the Crystal Palace Tent, 2011.
Q. How long has Japonicus been working with SMASH Japan and bringing artists to Fuji Rock? It seems almost every year your artists are some of the highlights in the most fun small stages like Palace of Wonder and Cafe de Paris. No other promoter puts on a party before Fuji Rock, but Radical Music Network takes place every year on the Wednesday before FRF. Please describe this unique relationship.
Shogo: We did our first Fuji Rock in 1999 with Todos Tus Muertos. They did three shows in three days at the Green stage (the 1st and 3rd day) and at Field of Heaven (2nd day). Since then, we provided a big stage act every year, and our first small stage set was in 2004 when Salsa GumTape played Gypsy Avalon. A couple of years later when DJ Satoru Fujii (from Caribbean Dandy) played at the Crystal Palace in 2007, it was the year when we started to regularly combine big stage bookings with the Crystal Palace, Café de Paris, Jim "Vinyl" Nasium Tent, and sometimes Naeba Shokudou and Mokudotei.
When we started Radical Music Network [as a pre-Fuji Rock party] seventeen years ago, it was like suicide… Music lovers used to keep their money to attend Fuji Rock, and bands used to wait for an invitation to do Fuji Rock as well… It was really very difficult to get customers and artists to go to Radical Music Network, especially on a Wednesday night, and especially before Fuji Rock!!
I think it was in 2004 when [Fuji Rock founder] Masahiro Hidaka called me to help bring a basque band called Atom Rhumba. He asked me if I was able to book them somewhere else, and that day I mentioned to him for the first time that we have our own event, Radical Music Network, with a concept of supporting the visits of rebel music artists to Japan. I also mentioned to him that it was very difficult for us to get good ticket sales and get good bands. That day he told me about his beginning in the music industry, and he pushed me to make a bigger effort. He gave me a very big dose of confidence. That year Fermin Muguruza Kontrakantxa headlined Radical Music Network and Japanese bands like The Zoot 16, Doberman and Dachambo completed the bill. Without that conversation with him, I`m sure that Radical Music Network would not have survived all these years…
Q: A lot of bands you bring to Japan from Catalonia, Basque Country, Spain and France seem to have very strong social messages in their music. By naming the event "Radical" Music Network, does that also have a political meaning?
Shogo: Around 2000, when I was trying to spread rebel music in Japan, only few people used to understand what I was saying… Once a Japanese Music Magazine interviewed Fermin Muguruza, and the journalist, Ayumi Shida, titled the interview "Radical Music Network". In his article, he mentioned artists like Rage Against The Machine, Todos Tus Muertos, Asian Dub Foundation, Mano Negra and The 3Peace to give Japanese readers an idea about rebel music. The next day I called the journalist asking for his permission to use that name for our event, and he accepted. It think that it was the first time the Japanese media wrote about Latin rock and the Rebel Music scene in Japan… Since that day, we've been able to invite artist related to this music scene from Japan, Palestina, Jamaica, Argentina, Basque Country, Catalonia, Italy, Spain, France, etc… This is how the name "Radical Music Network" was born. It's a big network that fights for our rights using music as a weapon against discrimination, fascism and injustice.
Q. What new or exciting artists are you inviting this year? What can we look forward to at Radical Music Night and at Fuji Rock?
Shogo: This year Doctor Prats (Catalonia), Mimi Maura (Puerto Rico/Argentina), Sergio Rotman (Argentina), Satoru Fujii (Japan) and Txako (Japan) will perform at both Fuji Rock Festival and Radical Music Network. Tex & Sun Flower Seed (Japan), Aneguria (Basque Country) and DJ OGT (Catalonia) will appear in both event as well. In addition, Japanese dub legends Kodama Kazufumi, The Zoot 16, Frying Dutchman, Mutsumi & The Rat Bones, Caribbean Dandy, EKD, Dr.Ihara and many more great artists will be a part of Radical Music Network`s line up.
Interview by: David Frazier
---
EVENT INFO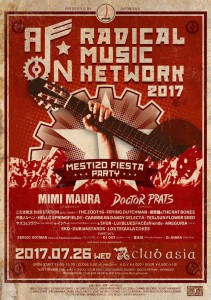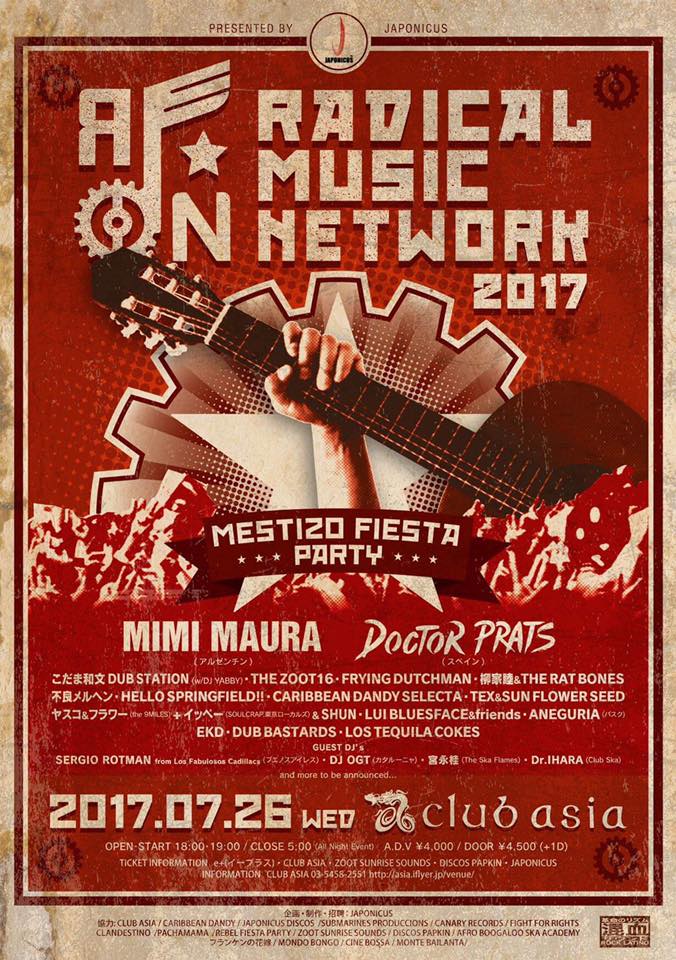 Radical Music Network 2017
Time: July 26 (Wed) 6pm – 5am
Place: Club Asia, Shibuya, Tokyo
Ticket: 4500 door / 4000 advance
Lineup: MIMI MAURA, DOCTOR PRATS, THE ZOOT16, こだま和文, FRYING DUTCHMAN, 柳家睦&THE RAT BONES, HELLO SPRINGFIELD!!, CARIBBEAN DANDY SELECTA, SERGIO ROTMAN (Los Fabulosos Cadillacs), 藤井悟, TETZ, AMEMIYA KSK, DJ TXAKO (Japonicus), DR.IHARA (CLUB SKA)… and many more.