What to bring when you camp?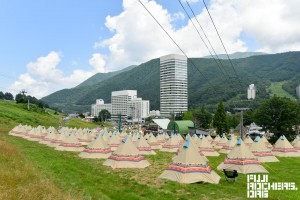 As the festival is now less than a week away you should start getting your packing organized sooner rather than later. This year, like many of you, I will be braving the elements, pitching my tent and camping in the mountains of Naeba. So partially for myself, as well as the readers of this blog I decided to put together a short list of essential or commonly forgotten camping items. I'm going to exclude obvious things like your actual tent or sleeping bag, as those go without saying. The list is purposely short as I want to get the conversation started. Are these 5 items essentials for you too? What else is on your Fuji camping checklist? Read my list below then tell me what I missed.
5. Camping Chair(s)
If you actually want to hang out and relax at your camp site you're going to need something to sit on. Bring a few camping chairs or stools for you and your crew and you wont have to crouch in the potentially wet and muddy grass. Spending some time outside of the tent gives you he chance to socialize with neighboring campers, talk to people as they go by or just enjoy the open air of the mountains. Big or small, one or many, camping chairs are essential.
4. Hand Sanitizer
This item is useful throughout Fuji Rock, but especially for campers. If you don't have access to to soap and water or are hanging back at the campsite chowing down, keep clean and sanitary. A small bottle of hand sanitizer will go a long way over the 3 days of the festival especially if things get dirty and muddy.
3. A fan
Whether you have something battery powered, solar, electric or just a hand fan, it's going to be a big relief in those early mornings when the sun comes up at Naeba. The inside of a tent gets almost unbearable with the summer sun beating down. Give yourself a bit of relief and possibly a couple more hours to sleep or rest with a fan.
2. Insect Repellent
This is another item that is good to have regardless, but particularly if you are camping, you will encounter bugs. Whether you want those bugs crawling over you or biting you as you sleep is something I think most of us want to avoid. Along with sunscreen, keeping your body doused in bug spray over the duration of the fest will help keep your comfort levels high.
1. Lantern, Flashlight or Headlamp
You do want to actually make it back to your campsite, don't you? Fuji Rock is a massive festivals with thousands camping over the 3 days. While a light is recommended throughout the festival anyway, it becomes an essential item when you are camping. A cell phone flashlight wont usually do the trick either. Make sure you mark your tent and have a powerful light to save yourself extra stress when trying to make it back to your tent at 3 am in a drunken stupor. If you're a regular festival goer, you've certainly encountered the odd punter who couldn't quite find his way back to his tent, either wandering aimlessly or passed out on the grass, don't be that odd punter!
There's my five camping items I think essential, I'm sure there are loads more. Let us know below. What are your camping essentials? What did I forget from this meager list? Are things like tarps, rope, hammocks, and coolers essential items for you or do you like to keep it simple? Let us know and happy camping Fuji Rockers!