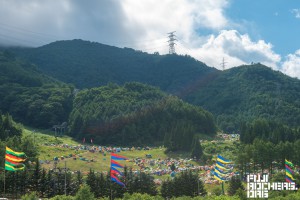 Don't know where to start to plan your day at the behemoth that is Fuji Rock? Let us do the work for you with our curate your day series. This (hopefully) series of articles from your friendly Fuji Rockers team will take the work out of planning your day at Japan's biggest music festival.
Let us lead you on a themed journey throughout the day. Last year I planned a day called Jimi's Jazzy Sunday. This year I bring you Freedom Friday at Fuji!
My plan for freedom Friday is to give you a sense of freedom, to avoid the large crowds, to see acts, visit stages and do things you might have never thought to try. The reason for planning this day on a Friday is that's when Fuji Rock is the least crowded. The weekend warriors haven't yet made it to Naeba and you'll be able to get around the festival grounds at a brisk pace. I'm going to exclude a key block of time in my recommendations. During prime time when the festival's key headliners are playing, I realize many people attend the fest with a primary intention of seeing these acts. So while I'm not going to steer you away from Gorillaz, Queens of the stone age, The XX, or others, just know it will be crowded, hectic and not freedom Friday approved.
So, with that as a preface let's kick our day off. Wake up early and head to the Pyramid Garden area for 9 o'clock. Take part in a group yoga session to relax your mind and body and get mentally ready for the big weekend ahead. This is a yearly offering put on by highly trained specialists from Yoga Jaya and Baseworks. It's a free class and something I've never tried before. I'll definitely aim to get in a session or two this year and I suggest you do too.
After you have your body and mind right, head to the Dragondola and enjoy the slow ride to the top of the mountain. I always recommend people visit the Daydreaming and Silent Breeze area on top of the mountain at least once during the fest. Regardless of who's playing up there, it's an experience you wont forget. So, why wait? Kick off your fest with the Daydreaming stage before you get too busy. This area has been written about in more depth from our team last month, check out the article for more info. Opening the Daydreaming stage this year is HoboBrazil. He's a long time veteran of  Tokyo's underground trance/house scene and should bring the right energy for the open air, morning setting on top of Naeba. Be prepared for some funky, tribal, laid-back beats to ease you into the day and raise your energy levels for things to come.
From the mountains above, head down to the to the small forest stage, Mokudo Tei to take in Rei. She's a small girl with a big guitar and a whole lot of talent. She's been influenced from blues greats ranging from John Lee Hooker, to Johnny Winter, Jeff Lang, Beck and more. It's the first set of the fest at the tiny secluded forest stage. If you've never been to Mokudo Tei, it's a magical place to take in live music especially if it's not too crowded as it shouldn't be at noon Friday.
After that, head on down to the Cafe de Paris area to grab some lunch and kick off the opening of the stage with Big Willie's Burlesque. Drummer Willie McNeil is a mainstay at the fest and has played the last ten years or so. Fuji Rockers caught up with him last year for a short chat. Willie, along with his band and Buenos Aires born dancer Carolina Cerisola, play a set filled with music ranging from salsa, latin, ska, cuban and more. Big Willie's Burlesque performs three times throughout the fest with year, but this first set at the Cafe de Paris should be the most intimate.
After Willie's set, walk over to the nearby Stoned circle area. This year it's more than just hippies and hand drums. New for 2017 they've added a slackline and sports climbing area. Both activities will certainly have long lines over the weekend so take the opportunity Friday afternoon and try something different.
When you've had your fill of slacking, climbing and drumming head back to the old Orange Court area and check out the Orange Cafe. Grab a snack and watch Shidadaimyojin perform. This quartet led by Endo Michiro is sure to be high energy and a little wacky. The Band's name basically translates to big fern Goddess. Expect something unique and different. You can get a preview of just how different from their YouTube channel.
After the wildness of the Orange Cafe, keep backtracking and make your way to the Gypsy Avalon stage, relax in the grass and watch SAKi & the factor. Their music has elements of folk, reggae, laid back blues and more. Lead singer Saki and guitarist Jody Tenku are incredibly skilled. Along with drummer Yoshio Tony Kobayashi they should deliver a great, late afternoon set.
From 5:30 onward, we are starting to enter headliner territory, so I'll bow out of recommendations for a bit and let you navigate your way through crowds to take in some of the big names like the Radwimps, The XX, Father John Misty, Queens of the Stone age, Gorillaz and more. I'll probably be at Gorillaz if you were wondering.
Now that you've braved the crowds a bit, let's continue back on the road less traveled. For fans of dance music head down to the Cafe de Paris area for this year's edition of 'All Night Fuji'. In the past this event has taken place in the old Orange Court area, but since last year the all night, outdoor dance party exists in the furthest reaches of the festival grounds. The night is packed with top Japanese DJs and beatmakers such as Major Force, Bryan Burton Lewis, Dub Squad, DJ Taska and more. I went last year and as long as the weather holds out, there's nothing quite like dancing and partying all night under the stars in the mountains of Naeba.
If bands are more your thing, make your way to the Crystal Palace for some authentic blues from journey-man blues guitarist Elvin Bishop. He's been playing since the early 60's and has played with some of the greats throughout the years. It should be a real treat to hear Elvin, along with his trio, play the small Crystal Palace tent. Stick around the Palace to watch emerging blues prodigy Marcus King and his band no doubt, shake the stage and rattle the windows. His set is sure to get people up and jumping around. Despite only being in his early 20's, King grew up around the blues and was playing shows with his bluesman father Marvin King before he was even a teenager. His influences are wide ranging, and his band multi-talented. Prepare to hear everything from straight blues, funk, soul, R&B, Americana and more. The Palace has been known to feature some must-see sets over the years in a small energetic setting, this year will be no different. Check out the live music throughout the night on Freedom Friday before it's too packed to get in over the weekend.
So, there we have it. A Friday full of freedom, new discoveries, relatively small crowds, great live music and new experiences. While this plan may not be for everyone, I highly urge you to at least attempt part of it. Getting out of your comfort zone, doing new things and discovering smaller attractions and bands is part of what makes Fuji Rock special. There's no better time than the first day at Fuji Rock to try this tactic, it might just encourage you to continue the trend for the rest of the fest!
Text by James
Photo courtesy of Fujirocker.org