Fujirocker's Seven Tips for Extreme Festival Fashion
We all know what we're supposed to wear! But will your breathable waterproof hiking wear inspire naughty looks from appealing strangers? Will your neck towel help you stand out in a crowd of 40,000? Will that sensible all-weather hat get you onto other people's Instagrams with the hashtag #onlyatfujirock?
There is no problem if you bring sunscreen and sturdy shoes, but remember that Fujirock is a party! So we put together this lookbook of Fuji Rock's best dressed, and it was just as easy as perusing the people photos in the "More Fun" section of last year's FujirockExpress.com. So get ready, this goes way beyond band t-shirts. Below we've selected seven of the top looks / bits of advice so you too can join Fuji Rock's best dressed.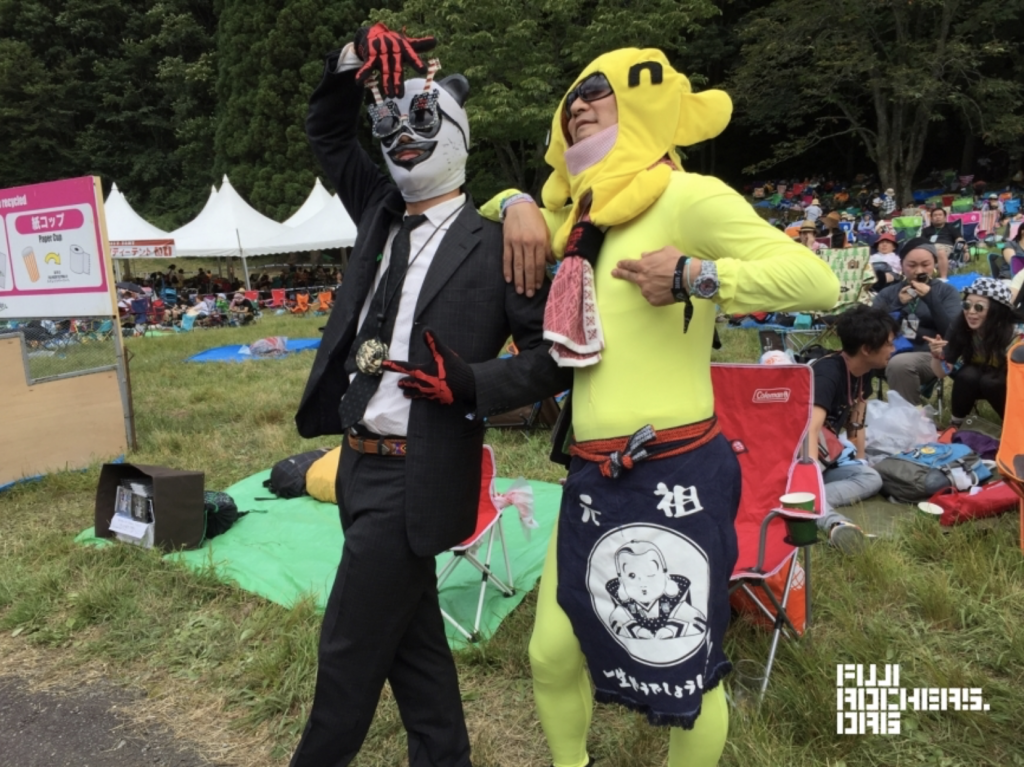 BEST DRESSED: The WTF Look! 
The world is a fashion show, and the trail between the Green and White stages is your runway. The best fashion statements go beyond definition, and at Fuji Rock they often go beyond general comprehension as well. This is your big chance to embody that manga hero who has so far only existed in your own head, or that embarrassing moment previously only known to a few close friends. In other words, just let it all hang out!
Bonus advice: Lycra bodysuits remove a lot of decision making from the "What should I wear today?" process. There's zero need for color matching, though you still may want to accessorize.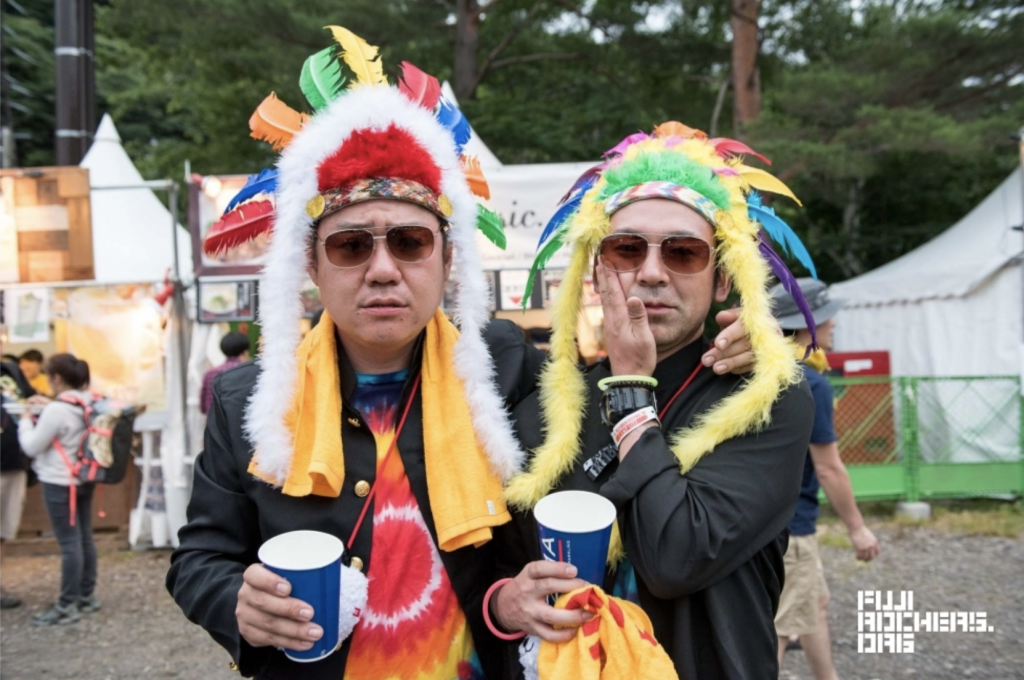 HEADWEAR: Let your accessories say "We're here to party!" 
You would definitely do tequila shots with these guys, right? And then take a group selfie? And then do another shot? Just sayin'.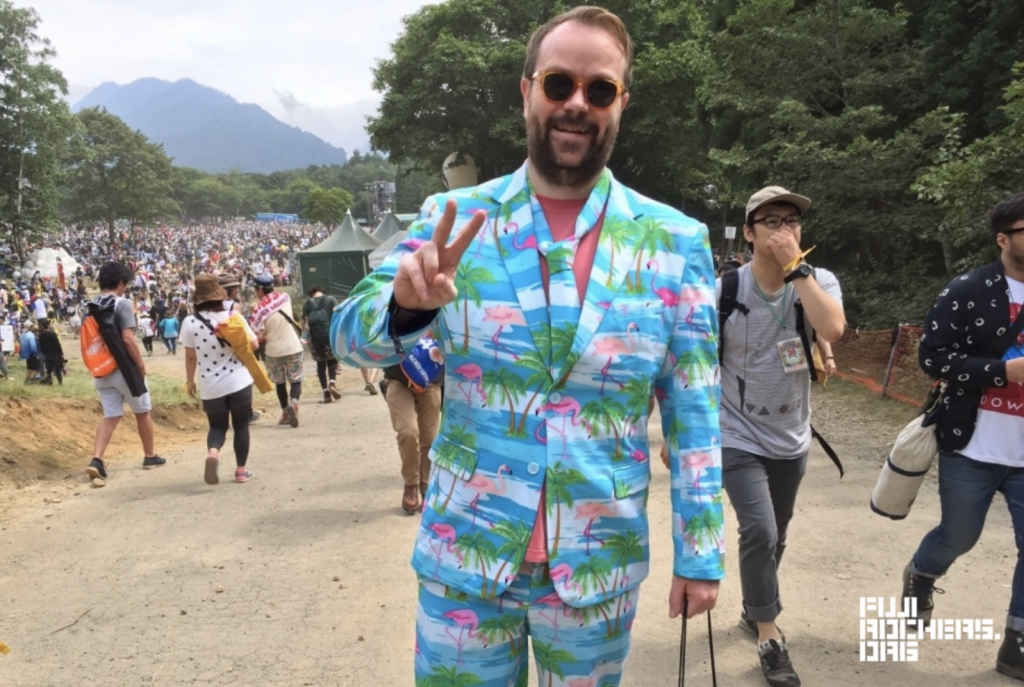 GET IT TAILOR-MADE
There seems to be a British tradition of having suits tailor-made from outrageous, gaudy fabrics. I can't make a 100 per cent attribution here, but every time I meet a bizarrely bespoke visitor, they seem to be from Asia's financial capitals, namely Hong Kong and Singapore. They have discovered Fuji Rock seems as a perfect venue for sartorial parodies of the capitalist class.
Bonus points: Clearly, this guy's friends will have no trouble finding him.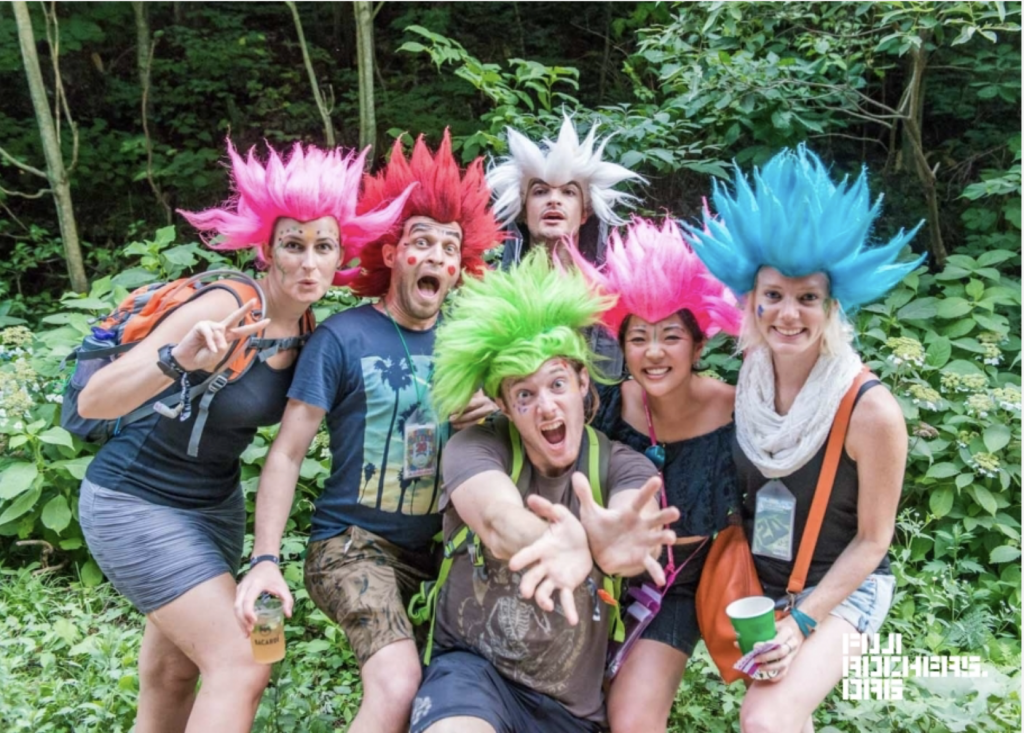 GROUP COSTUMES
Believe it or not, there are several practical advantages to dressing up as a group. It's easy to find your mates. Wherever you arrive, you bring more fun. Lots of people will want to meet / pose with / party with you. So it's a good icebreaker as well. In this case, all they needed was flame wigs and some face paint. To name some other examples, there are a group of Hong Kong bankers who always dress in Viking hats (easy to spot above the crowd), groups who wear matching suits, and other types of group costumes.
Bonus points: Gaijin who express affinity with Japanese culture tend to get lots of love.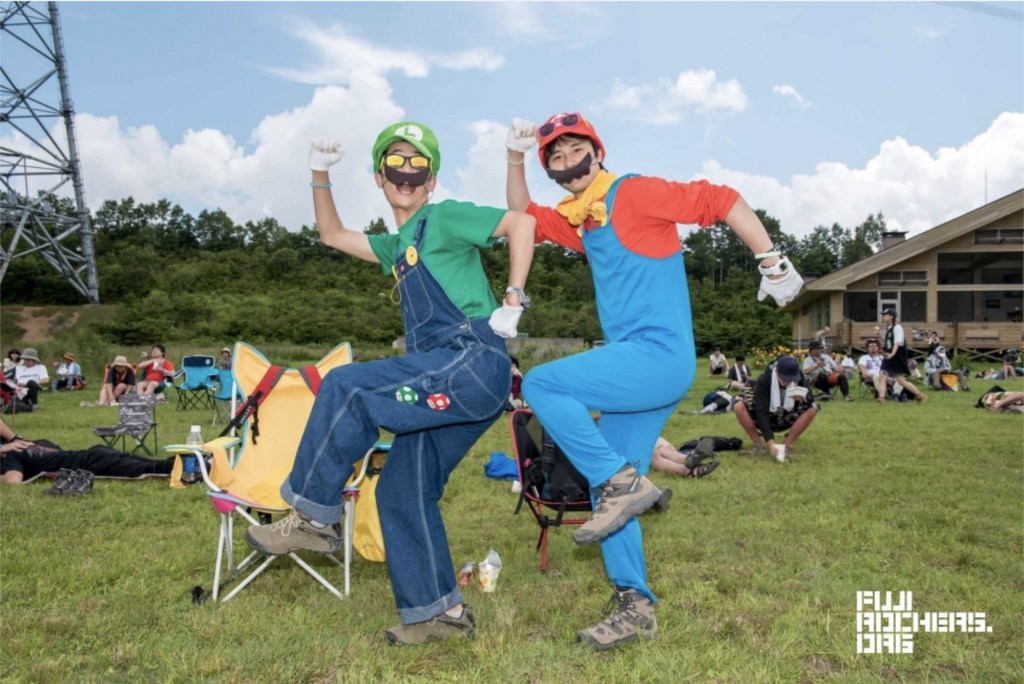 FESTIVAL FAVORITES
Super Mario Brothers, Where's Waldo and several other outfits are common occurrences, showing up year after year. We're totally cool with that, btw.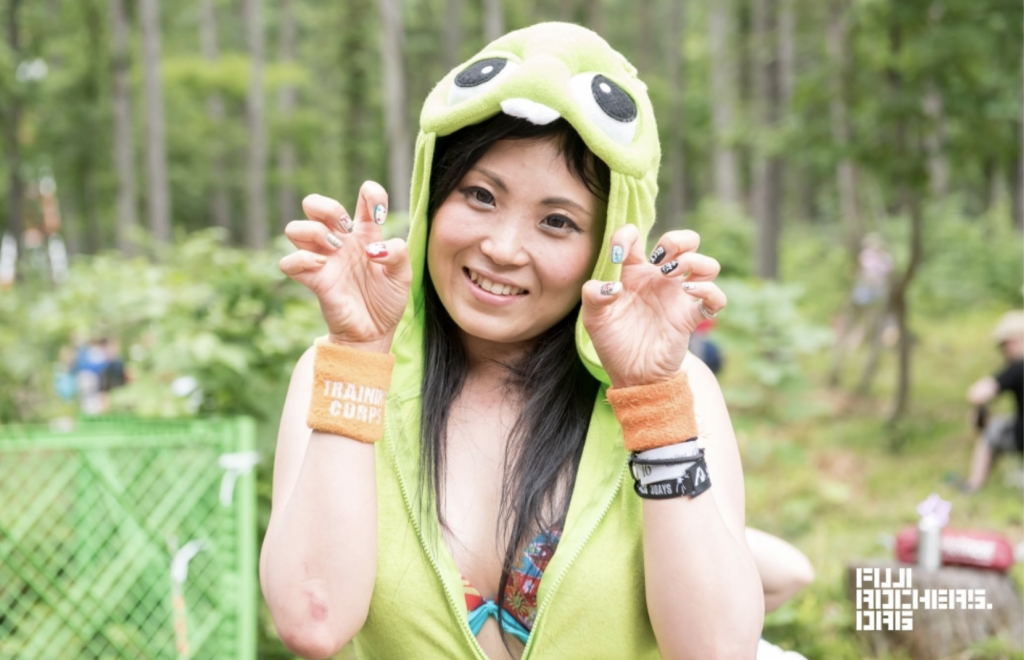 MANGA LOOKS + BIKINIS
Okay, this is a two-fer. Both looks are great on their own, but the two together? Oh man! Prepare to make new friends.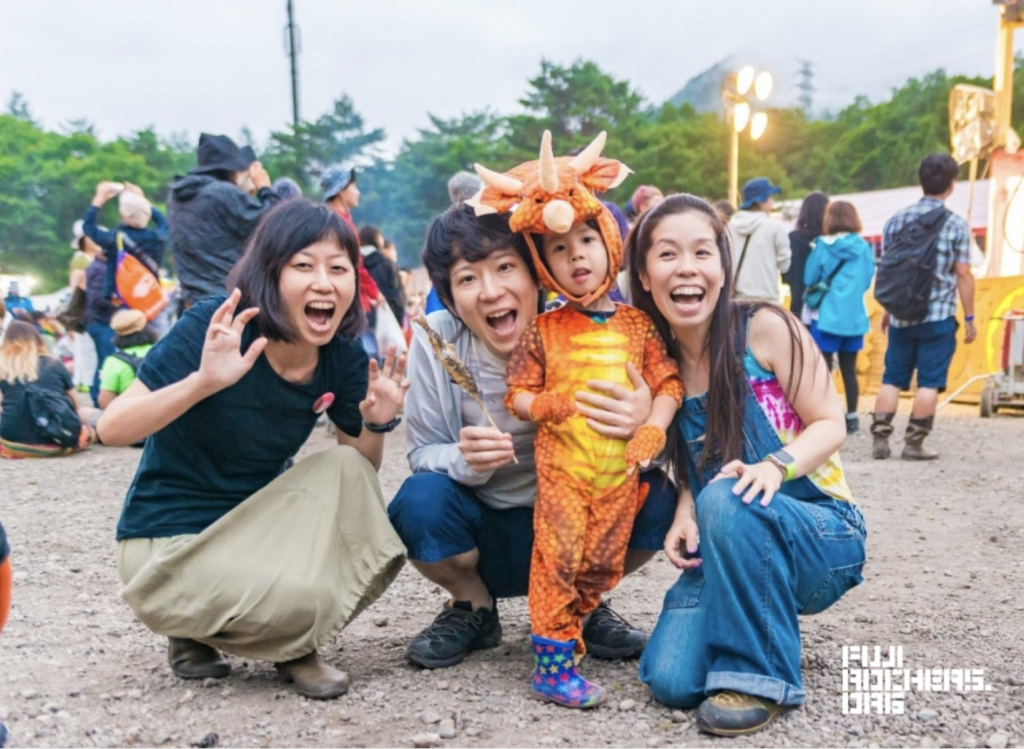 KIDS CAN DO IT TOO: At Fuji Rock, it's always Halloween
Odds are that this little tyke has yet to collect Bjork's entire music catalogue (though in Japan, you never know), so he'll need something else to have fun with. Running around as a dinosaur? Yeah, that's a pretty freaking awesome weekend.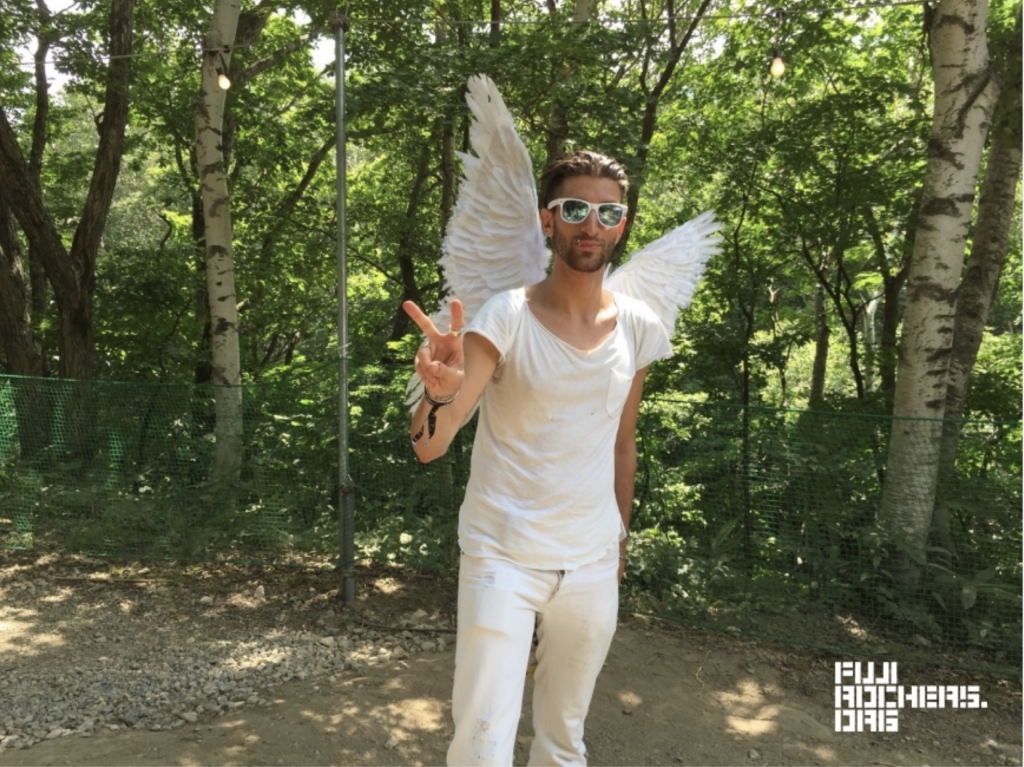 BONUS PHOTO: Send me an angel!
This guy picked one smart accessory, and combined it with general fashion sense and an all-white look that makes this simple costume work. Good job fella!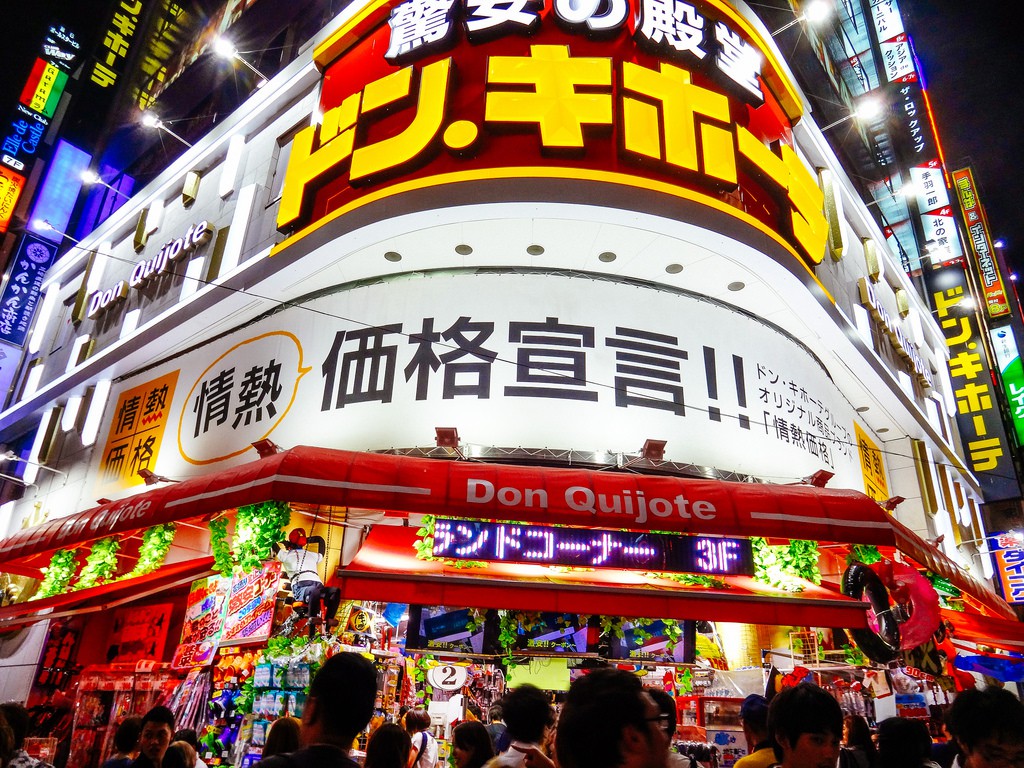 WHERE TO SHOP
It's easier than you think. Once you land in Japan, go directly to Don Quijote, which sells everything and has an extensive costume section. (Seriously, you need to browse the narrow aisles to believe it.) Don Quijote is open till very late or even 24 hours, depending on the location. In Tokyo, you can find them in Shibuya, Shinjuku, Roppongi and other popular neighborhoods.
Find a store: http://www.donki.com/en/
Text: David Frazier
Photos: 安江正実