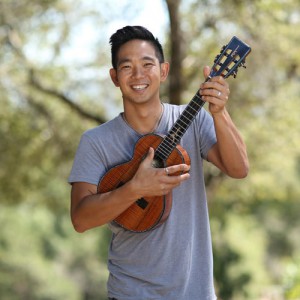 In my last article I described one of the reasons to attend Fuji Rock this year was its great diversity of bands and acts at the Festival. One example of such diversity is Jake Shimabukuro. For those who don't know, Jake is a 5th generation Japanese-American, Hawaiian born and bred, master of the ukulele. Before the internet was being broken by silly things like pictures of the Kardashians, our man Jake was shaking things up on Youtube with his super-human ukulele skills. If you still haven't seen his rendition of 'While My Guitar Gently Weeps', join the 15 million others who have. 
Jake was signed to Sony records Japan in 2001 and has been releasing records and playing shows here ever since. I caught his set at Tokyo's Bunkamura a couple years back and was plenty impressed. This will be Jake's fourth time to play Fuji Rock and he'll be coming this time with his Nashville Sessions trio band, consisting of Nolan Verner on bass and Evan Hutchings on drums. If you somehow manage to miss Jake at this year's Fuji Rock, he'll be back in late September of this year playing a Japan tour.
We were lucky enough to converse with Jake for a virtual Q&A session, covering a range of topics, like his views on the ukulele, thoughts on Japan, his upcoming Fuji Rock appearance and more. Check it out below and don't miss Jake Shimabukuro playing the Green Stage, Saturday afternoon, July 29th at Fuji Rock 2017.
FR: You've taken the ukulele places many thought impossible. From Youtube stardom, to collaborations with musical legends, to rocking the biggest stages in the world, you've seemingly done it all. What keeps you inspired to continue making music, playing live and trying new things?
Jake: There's always so much to learn. Traveling and experiencing other cultures is very inspiring for me. Especially when I have the opportunity to collaborate with other musicians and artists from around the world.
FR: You've been particular successful here in Japan, what is it about Japan that you think allowed you to flourish here? Do you think it's your Japanese heritage or maybe Japan's relationship to Hawaii?
Jake: I was very fortunate in my career early on to have the support of Sony Music Japan International. They were really invested in me and worked hard to develop a touring career for me in Japan. I'm very grateful for the relationship that I've had with them over the years. It's been 16 years since I signed on as a Sony artist.
FR: I've read you are 5th generation Japanese-American, do you still have family in Japan?
Jake: I don't have any relatives that I'm aware of living in Japan. But I'm sure I must have some distant relatives that I don't know about living there.
FR: How do you think of yourself? As Hawaiian? Japanese? American? Or maybe how many of us see you, as a kind of ukulele wielding demigod.
Jake: I've always identified myself as a Japanese American. That's the title that was always phrased to me. But I do feel being born and raised in Hawaii allowed me to have a very different experience from other Japanese Americans that grew up in the continental United States. Hawaii is such a melting pot of cultures. I wouldn't trade that experience for anything.
FR: You've been known to impress the locals here with your Japanese language abilities. Do you speak Japanese at home with your wife and children?
Jake: My Japanese vocabulary is very limited. I don't speak it at home with my family. Maybe I should force myself to speak a little Japanese everyday – then I'll be able to really impress them on my next Japan tour.
FR: Similarly, a number of your songs have Japanese elements to them, is it important for you to reflect a Japanese aspect in your music?
Jake: I think the Japanese elements in my music just occurs naturally. I was heavily influenced by traditional Japanese songs as a child and I think it just comes out in my compositions and live performances.
FR: Are you familiar with traditional Japanese instruments and/or musical traditions? Can you play any Japanese instruments?
Jake: I can't play any Japanese instruments. But I do love the koto and shakuhachi. Those instruments really speak to me. But they are very difficult to play. The ukulele is much easier.
FR: What are some of your favourite things about Japan or Japanese culture?
Jake: Of course, I love the food! That's what I look forward to every time I go to Japan. But I also love the philosophy and work ethic of the Japanese people. It's very inspiring and humbling.
FR: Who are some of your favourite Japanese artists or favourite Japanese tunes? Do you have a Japanese artist you'd like to collaborate with in the future?
Jake: I've always been a fan of guitar players like Char, Michio Haruhata, and Oshio Kotaro. Makoto Ozone is another musician that I really look up to. Ryuichi Sakamoto is also incredibly brilliant and I'm a fan of his compositions.
FR: You've played numerous venues and festivals all around the world, do you prefer the festival setting or the concert hall?
Jake: I love both. They are both so different. I love having variety throughout the tour. Sometimes we play halls, then we'll do a festival, then a club like the Blue Note or Billboard, then a rock club – they are all different and fun. It's hard to say which I like best.
FR: This will be your 4th time playing Fuji Rock, what does this festival mean to you? What are your impressions of the fest? Have you had some time to wander around and enjoy the fest in the past?
Jake: I love the Fuji Rock Festival. Everything is always so incredibly organized and the people are wonderful to work with. The production is always top notch and the audience is always so respectful but wildly encouraging at the same time. I usually don't have much time to walk around the festival grounds, but it's easy to get a vibe for what's happening even from backstage.
FR: Any artists at this year's fest you are hoping to check out?
Jake: Bjork! She's such an interesting and creative artist. You never know what to expect.
FR: What can fans expect from your set at Fuji Rock?
Jake: I'm bringing the players that I had on my latest trio record "Nashville Sessions." It'll be Nolan Verner on bass and Evan Hutchings on Drums. It'll be tons of fun! We are going to try and recreate some of the songs on the album and of course a few new ones.
FR: Any message for the readers?
Jake: I love Japan. Always such an honor to have the opportunity to return. Looking forward to bringing some love and aloha to Fuji Rock this year. Yoroshiku Onegai-Shimabukuro!!
Text by James
Photo courtesy of Jake Shimabukuro and fujirockfestival.com