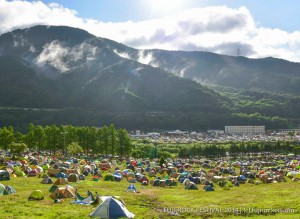 A few days ago my colleague Sean touched on why music festivals matter, in this post I'm going to tell you why you should make Fuji Rock the one festival that matters the most. There are a number of ways you can spend your hard earned money and time this summer, so why choose Fuji Rock? The Japan summer festival season is impressive. There are loads of festivals and/or concerts you can attend, great bands and DJs you can take in every weekend this summer. However, if you had to only attend one event this summer, (hopefully you won't have to) I'm going to make the case for Fuji Rock.  Let's count down the reasons from ten (not necessarily in order of importance, debate the rank with me if you so desire)
10. Camping
Provided it doesn't pour rain daily as it has in past years, the camping aspect of Fuji Rock can be one of the most appealing parts of the festival. Whether you camp alone in a single tent with the bare essentials or you come with a group of seasoned campers fully prepared with chairs, coolers, hammocks, tarps, air mattresses and more, camping at Fuji Rock is an experience you won't soon forget. The mountainous views are scenic, fellow campers friendly and there's always great live music a short stroll away.
9. The pre-party
I've written more in depth on this point in the past, check the article here.  Let's just say the pre-party event on Thursday evening is worth your time. What other festival this summer is going to offer you a free party, complete with folk dancing, fireworks and surprise bands? If you know of fests other than Fuji doing this, I'd really like to know!
8. Smaller stages and after-parties
Even more important than the pre-party are the plethora of after parties and smaller stages that keep Fuji rocking all night. This was similarly written upon in greater depth last year in a series of articles, here, here and here. If you're just sticking to the main stages and winding down when the big stages do, you're missing half the party!
7. Quality food and drink
This is a point that gets written on every year in both the English and Japanese coverage of Fuji Rock, but it's worth noting again. If it's your first time coming to Fuji Rock, the quality of the food and drink available throughout the festival may surprise you. If you have some time, don't just jump on the first rice bowl and draft beer you spot either. Take the time to explore the festival grounds to discover the full extent of what's on offer. From hearty Japanese meals to world cuisine, cocktails to craft beer. Great food and drink are what helps make Fuji rock.
6. Fun for the whole family
Fuji Rock isn't strictly hard rocking, heavy drinking, all night partying, there's plenty of fun to be had for families and kids of all ages. From special camping zones for families, multiple kids areas and activity centers scattered throughout the fest, to sing-alongs with characters on the top of the mountain. The festival welcomes all and ensures Fuji Rockers of all ages will have a great time.
5. The location of the fest
Did you noticed I mentioned a kids area on top of the mountain? Fuji Rock takes place in one of the biggest ski resorts in Japan, it's this magical location that makes the festival unique. There's lush nature, small stages in the middle of the forest, a gondola to the top of the mountain and DJs playing chilled beats on the top of said mountain. There's rain, sun, misty mountains and cool breezes. It's an escape from the sweltering heat of the city summer in Japan. You may complain about the distance to the fest when you set out, but you'll quickly forget about that after you arrive.
4. Hot springs
What other music festival could you expect to find natural hot springs as a draw? What better way to unwind after a long day of rocking out than a soak in a Japanese onsen. Whether you partake on the Fuji Rock site or venture out into the town of Naeba and beyond as mentioned last year , hot springs are part of Japanese culture and a Fuji Rock tradition everyone should try.
3. The town of Naeba
If you've never wandered into the neighbouring town of Naeba during the festival, make a point to do so this year. The town goes out of its way to accommodate the legions of Fuji Rockers that flood into the tiny mountain town every year. Looking for some snacks, drinks or camp site supplies? Perhaps a place to keep the party going in the wee hours of the morning, when all the stages have finished? Naeba has you covered! Looking for a place to stay, with a little hot springs in the basement? Naeba has you covered (if you booked well in advance that is). All the town locals are friendly and happy to help out, you may even see some of them at the pre-party Thursday night.
2. Bands for your buck
As many extras as Fuji Rock offers, you came for the music. It's no secret that shows in Japan can be a little pricey, especially when foreign bands come over. When looking at the initial ticket price for Fuji Rock you may be a bit taken back by the ticket price. But stop to think about how many bands are performing each day, how many bands you can take in over the 3 days and what it would cost to see even a fraction of that number play live in Japan. Even if you just park yourself in front of the Green stage each day, you're easily getting your money's worth in world class live music.
1. Diversity and quality of music
Even though we're still far from knowing the final lineup at Fuji Rock this year, you can already start to notice the immense diversity. For music lovers of all genres, Fuji Rock is a dream come true. Simply glance back at past years to see there's a little something for everyone. For fans of multiple genres, it's a blessing in disguise as time conflicts between bands will greet you each day. However, with that much good live music, it's far from a bad problem to have. FRF brings you rock music, electronic music, Japanese music, indie bands, world famous groups, new-comers and seasoned veterans alike, playing on stages of all sizes and to crowds ranging from thirty to thirty thousand.
Tect by James
Photo courtesy of Fujirockers.org