How to Apply for Rookie A Go-Go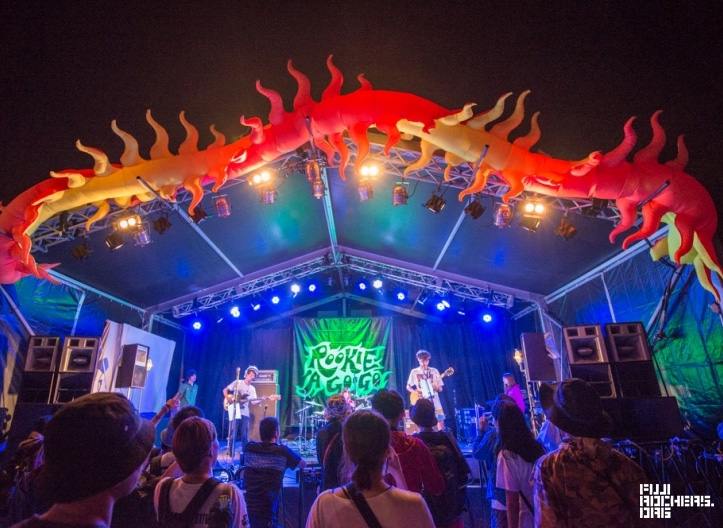 Outside the main festival gates at Fuji Rock you may find yourself wandering back to your tent, hotel or hostel one summery evening when the sound of a band calls out to you on your left.  Dazed and sweaty from a headline show at the Green Stage, you're still aching for something else to keep the buzz going, so you follow that sound and step through the mouth of a giant, fiery skull to find yourself at the Rookie A Go-Go stage, a magical musical space which has been showcasing unsigned bands at Fuji Rock since the beginning of this millennium.
In the last 17 years, Japanese bands such as Suchmos (2014), D.A.N. (2015), My Hair Is Bad (2014), The Fin. (2014) and Yogee New Waves (2014) (the latter two bands are appearing at Fuji Rock 2017), and up and coming young band Yahyel (2016) have played the Rookie stage on their way to bigger and better things.  With the selection process for playing the festival remaining something of a mystery, it's not surprising that many bands are interested in Rookie as a way to get their foot in the door at Fuji Rock.
Here's our guide to the application and filling in that pesky Japanese form.
Application Form
First of all, you're going to need to download the .zip file from here: http://www.fujirockfestival.com/news/?id=3318 (scroll halfway down the page and you'll see a link to a PDF/.zip).
Yes, it is entirely in Japanese.
But wait!  Here's a translation: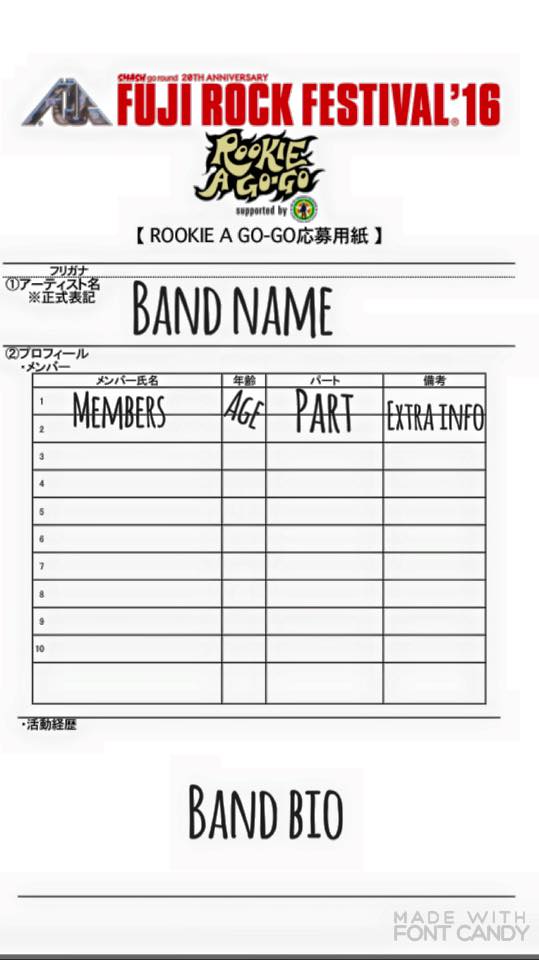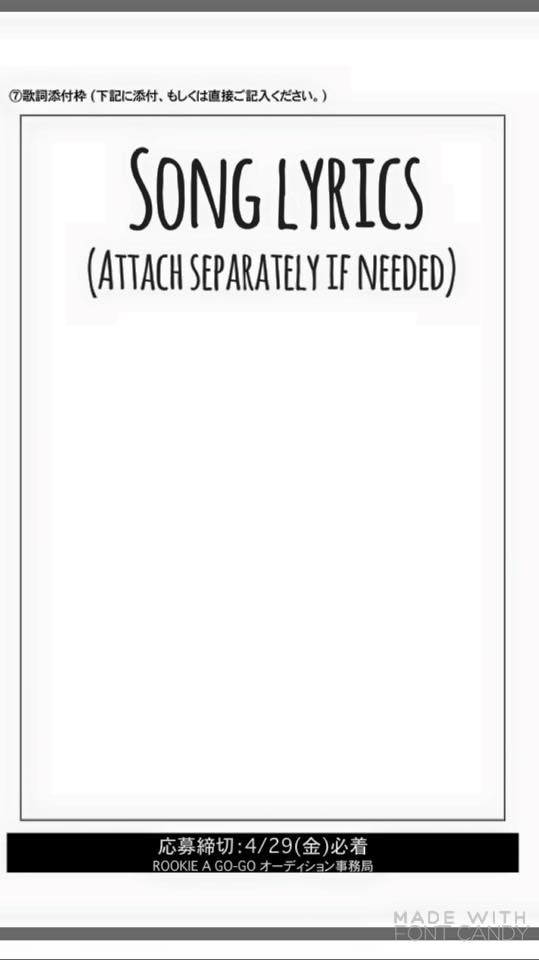 All pretty self-explanatory?  For the website address section,  I'd suggest including all your social media addresses in addition to your band web page.  If you don't have a web page, I would suggest getting one – no one likes a Facebook page as a default band site.
Why song lyrics?  Well…why not?  I'm going to hazard a guess and assume this is to make sure you're not screaming about rivers of blood and the Anthropocene apocalypse, but if that is your kind of thing, you're probably barking up the wrong tree at Fuji Rock anyway.
Promo Material
You'll need two photos – one a full-body shot of the group and one where the band member's faces are all clearly visible. The format is not specified, so I assume a print would be acceptable – make sure it's a good size and well-printed, not a cheapo 6X4 from the print shop.
You'll also need to provide a CD with 3 songs – do not send MP3s.
Once you've got all that together, you need to send it off to:
Rookie A Go-Go Auditions, Hot Stuff Promotion, 2F Royal Palace Kami-Meguro, 5-26-21 Kami-Meguro, Meguro-ku, Tokyo, 153-0051, Japan
Questions? Yeah, I thought so.
When will I hear back about the application?
You'll only hear back from the auditions if you are selected, probably within about 6-weeks of the closing date for applications at a guess. Otherwise, expect to hear nothing – there are too many applications for everyone to be acknowledged.
What are the chances of my band being selected to play?
Rookie says that there are no limits on nationality, gender or style, but it hasn't gone unnoticed by many of the "foreign" bands in Tokyo that the line-up is usually close to 100% Japanese.  That being said, Manic Sheep from Taiwan not only played Rookie in 2014, they even won the competition, so there is a precedent.
Style is something else to take into account.  Heavy metal is unlikely to be a top pick, but if I turned up at Rookie and found a metal band playing it would make for more than a welcome change (hint hint, Rookie-folks).  Bands tend to fit somewhere between whimsical alt-rock and accessible pop-punk with occasional detours off this well-beaten path.
Check out The Fin. and Yogee New Waves for an idea of what tends to go down well:
What happens if my band wins the Rookie competition?
Most winning bands are invited back to play on one of the other larger stages at the main festival the following year.
How do you get your foot in the stage door at Fuji Rock?
This will forever remain a mystery, but why not just send you CD and promo packs to Smash HQ, address it to the Fuji Rock staff and see what happens?  In the worst case scenario someone might chuck it in the bin, but best case, a little like NST and The Soul Sauce in 2016, they might let you play Cafe De Paris.
If you have any more questions, please let us know either in the comments here or on our Facebook page.
Good luck with your applications!