Fuji Rock 2017 Tickets On Sale Feb. 18th
For those of you eagerly awaiting ticket sales for this year's festival, only a few days are left!
Below are the keys things you need to know about buying tickets for this year's Fuji Rock.
Tickets – On Sale February 18th
Tickets are released in stages, with earlier tickets selling at slightly cheaper prices.  This year 2-day tickets will be available for the first time, meaning those who can't make the whole weekend can purchase a ticket at a slightly reduced price, as opposed to buying two 1-day tickets.
Tickets
Selling schedule
1 Day Ticket
2 Day Ticket
3 Day Ticket
Early Bird Discount Tickets (Limited Q'tys)
From 2/18th (Sat)
¥17000
¥32000
¥39800
Advance Tickets (Limited Q'tys)
From 4/8th (Sat)
¥18000
¥34000
¥39800
General Tickets
From 6/3th (Sat)
¥19000
¥36000
¥43000
| | |
| --- | --- |
| Parking Ticket | ¥3000 (Per vehicle / per day) *must be 2 or more people per vehicle. |
| | |
| --- | --- |
| Campsite Ticket | ¥3000 (Per person / Valid for the duration of festival campsite) |
Tickets in Japan are available through the usual outlets.  For those overseas, please head over to the Gan-Ban English website.
You can also check the Fuji Rock English website for more information.
Camping Tickets
If you are staying for the whole weekend, you need to buy a camping ticket (¥3000).  If you're only staying one or two nights, you need to buy a camping ticket.  We recommend you buy a camping ticket at the same time as purchasing your festival ticket. Do not wait to do this at a later date as you may find yourself without a home for the weekend.  We repeat: Buy your camping ticket when you purchase your festival ticket.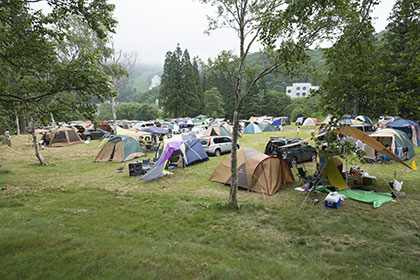 Moon Caravan Tickets
Unless you're a resident in Japan this probably isn't going to pertinent to you.  Moon Caravan, as the name suggests, is caravan parking for 4-wheel and 2-wheel vehicles.  Tickets for 4-wheel vehicles are priced at ¥12,000 and ¥6000 for 2-wheels in addition to your regular camping tickets.  These tickets are only available for purchase in Japan.
Tour Packages and Accommodation
There are loads of tour packages providing transport and accommodation options for people travelling from different parts of Japan to the festival site. The first round opens this Friday February 17th for those looking to stay at the comparatively swanky and conveniently located Naeba Prince Hotel.  The downside?  It works on a lottery system and the whole website is in Japanese…
Check the link here: http://www3.collaborationtours.com/fujirock/info/officialtour.html

Pyramid Garden
We get lots of inquiries about this area every year. Pyramid Garden is one of the most sought after camping areas at the festival (it's on flat ground) and sells out fast (there are only 500 spaces), so make sure you are on the ball for this one. Tickets are only available through the tour package for this area, and you'll have to wait until those packages are made available on April 10th to try to get one.  Again, tickets are available through the tour site (Japanese only).
Tent Rental
The lovely folks at Gan-Ban rent tents to those who don't wish to lug their camping gear across the globe.  No information is available as yet for this year, but check the Gan-Ban accommodation page for updates.
We'll be keeping you up-to-date with future announcements and key dates so check back in for more soon.
Photo: Takeshi Hosomi
Save
Save
Save