Memories of the First Fuji Rock
20th Anniversary Special: An Oral History of 1997
By Dave Frazier
This year we will celebrate the 20th ever Fuji Rock Festival. The first year, 1997, was legendary both as a triumph and a disaster. Held at the Tenjinyama Ski Resort on the slopes of Mt. Fuji, a typhoon struck during the first day's headliner set by the Red Hot Chili Peppers, and the rest of the festival was cancelled. Several of the bands that performed that year will now return for Fuji Rock's 20th anniversary, including headliners Red Hot Chili Peppers and three acts that never made it to the stage, Beck, Squarepusher and Lee "Scratch" Perry. Several other acts from Fuji Rock #1 have become Fuji Rock regulars, returning to the festival over and over again, such as Foo Fighters and Boredoms. Still more music legends were there behind the scenes, like The Clash's lead singer Joe Strummer, who was a Fuji Rock regular till his death in 2002 and leaves us the marvelous legacy of the Palace of Wonder, which grew out of the campfire parking lot party he started in Naeba in 2000.
The disaster of the Fuji Rock cannot be understated. A crowd of 30,000 was stranded, cold and wet in the middle of a typhoon on a mountain at night, and the festival's second day was cancelled. The next year, Fuji Rock moved to Tokyo Bay-side Square, and in 1999 the festival found a permanent home in Naeba, where it would be protected from typhoons. But the precedent of the mud, rain and all-weather festival was set, and Fuji Rockers have been prepared ever since. To celebrate 20 years of Fuji Rock and remember that legendary first night, I tracked down three first year attendees, including Japanese music fans Takeshi Shiokawa and Taka Nagano, as well as main stage security staff Bobby Gustafson. Here are their memories of Fuji Rock #1.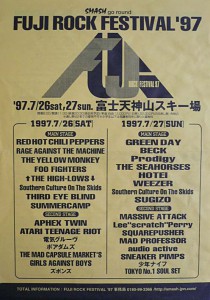 Q: The very first year, what did you know about Fuji Rock and why did you decide to attend?
Taka: There was a music magazine called Rocking On, a fairly serious magazine focusing on Western artists. I think that's where I first heard about Fuji Rock.
Takeshi: I wanted to see Rage Against the Machine, Boredoms and Aphex Twin. At that time, outdoor festivals were not normal in Japan. That was maybe gonna be our first experience.
Bobby: I worked as a civilian restaurant manager and F&B director on the military base at Yosokusa. An ex-military guy from the navy had retired and opened a security company that did security for events. They needed some big foreigners to be security at Fuji Rock, so I was invited. All I knew about the event was that the Red Hot Chili Peppers were going to be there, and that's where I wanted to work, so I got that stage [the main stage].
Q: When did you arrive at the festival?
Bobby: We left at twelve midnight from Yokosuka to arrive there in the morning. We went to our hotels, then the next day at 1pm or 2pm, they took us out there [to the festival site] to start doing our job.
Takeshi: We arrived the first day, soon after noon. It was very humid then, but not raining yet. Many people were not used to outdoor festivals, and not well prepared. There were too few toilets, and manners were so bad.
Taka: I travelled to the festival from Kyoto with a friend, a Japanese guy. And we met a Canadian guy on the way, and another guy from New Zealand, and we ended up staying playing at the New Zealander's place the night before the festival. I remember I had to prepare lots of things for the outdoors, like a raincoat.
Q: Can you describe the festival vibe? Or your experience early in the day?
Taka: I remember long lines for the toilets, and lots of beer.
Bobby: In Japan, that time was kind of the beginning of neo-trance. There were a lot of weird costumes, like people dressed as cats, with neon colors all over them, tripping out to — I can't remember any of the bands' names. One lady was on stilts, and she was a big butterfly going around in the crowd, and everyone else was tripping out. I obviously couldn't because I was working. They had some really good visuals.
Takeshi: Rage Against the Machine was in the daytime, around 2pm. I saw Foo Fighters, some Japanese bands, Boredoms. The headliner was Red Hot Chili Peppers and the guitarist was Dave Navarro, from Jane's Addiction.
Q: Did you know there was a typhoon coming in?
Bobby: Yes I did. We knew that it was going to hit us too.
But in the afternoon it was still pretty relaxed. When the rain started hitting was later, when more people started coming in and it was getting really busy. The grass was all gone and it was just mud. After the shows, you could go around in the mud and you could find phones, you could find keys, you could find money. It was hectic, dude.
Takeshi: It started raining and many people had umbrellas, so it was difficult to see the stage. During Rage Against the Machine, the audience was moshing and throwing their umbrellas everywhere. Crazy people! The skeletons of the umbrellas were everywhere. It was so dangerous. In other areas, people were sliding in the mud, and sometimes you would hear a guy scream, "Ouch!" What happened? An umbrella had stuck him in the ass.
Q: How was the Chili Peppers set?
Takeshi: Before the performance, the night was so chilly. People were shivering. It was hard to stay and watch the show. I was soaking wet, with no umbrella and no jacket. I was like a refugee. I tried watch the Red Hot Chili Peppers, but they played a Spice Girls song, and it made me feel even colder, so I left.
Bobby: The typhoon was practically over us when the Chili Peppers hit the stage. Oh my goodness, they were on stage with all that electrical equipment playing in dripping rain, with water just pouring on to the stage. I would say they could have died at any time from electric shock. Really, man. It was crazy.
I was in front of the stage, between the crowd barrier and the stage, pulling people over. While it was raining, there was steam coming off the crowd, like a fire was happening, because it was so packed. The barricade had thick poles, the diameter of the support for a basketball goal, and those were bending because so many people were pushing in.
During the show, they were crowd surfing people out of the audience because they were passing out. Most of our job was getting these people who were practically dying out of the pit. Every minute or so, someone would come over, either passed out or freezing — it was really cold because of the rain. There were about 15 of us doing stage security, and increased to about 20 at the end, because we just couldn't handle the volume of people coming over the fence.
There were a couple of crazies. I got kicked in the balls twice by the same girl. We were carrying her by her feet and arms because she didn't want to leave.
Taka: I was so impressed. The Chili Peppers looked like they were playing against the storm, like they were fighting the storm. They looked very brave, like heroes. But I was seriously worried about that the musicians were in danger. The rain was reaching the musicians and I was worried they would get electrocuted.
Bobby: The Red Hot Chili Peppers — I tell you, that was the biggest workout I ever got in my life. Pulling those people off the crowd, dragging them over to the emergency tent. That's the part that we did. I didn't stay to make sure they were OK. There was Japanese staff doing that. So I would go right back to my post, and then drag more people over.
Q: How did the Chili Peppers finish their set?
Bobby: They didn't finish the performance. The ended early, because it was raining way too hard. After they went off, that's when they closed down Fuji Rock festival on account of the typhoon.
Q: What happened that night after the performances ended and the typhoon was hitting?
Takeshi: It took two hours to get to the bus station, but at first there was no bus available. It took another two hours to get down the mountain to our hotel. We were tired, wet and freezing.
Bobby: We were dead tired and they [the organizers] just sent us back to our hotel.
Taka: It was a very tough experience. I had to line up for a long, long time to get out. The rock magazines and the organizers warned us to be prepared for any kind of weather. But I think I was wet.
Q: As the typhoon was hitting in the late evening, I heard the whole festival turned into a refugee camp.
Bobby: Yeah, basically. Because nobody had anywhere to go. They were planning on partying there all night.
Q: What happened on the second day of the festival?
Bobby: The next time I was outside was the next morning about 9:00 or 9:30. The organizers said, "Oh sorry, we cannot go back on. The equipment is too damaged. It's all too waterlogged and it would be too dangerous to turn it back on."
Takeshi: We tried to go the second day. We were driving in a car, and we saw people coming back and heard it was cancelled. I was really looking forward to see Squarepusher that day, but it was cancelled. So we went to an onsen. Later when we went back to Tokyo, our spirits were really down.
Q: Have you been back to Fuji Rock since?
Takeshi: Not yet.
Bobby: No, I left Japan not long after that, first for Guam, and then to start my life in Taiwan. But man, that was a great time. I wish I could do it again. The same thing — typhoon and everything. It was just awesome.
Taka: I went with my brother the second year, and in total I've been to the festival three times. The second one was amazing. Bjork and Beck were there. As a concert, it was way better. But the first year was so memorable. I'm proud that I was there. And I'm proud of the organizers, because they didn't give up after such a disastrous first year.
Q: Is there anything else you want to add?
Bobby: The funny thing is, their graphic for that year was the image of a cyclone. We had a yellow jacket with the graphic of a hurricane — and they got what they asked for!
Taka: Now there is Summer Sonic and other large festivals. But Fuji Rock created the path, and other people followed them. People should remember that. It's a very special festival.
About the Interviewees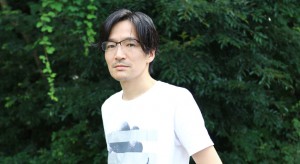 Takeshi Shiokawa lives in Tokyo and is a guitarist playing in several well known indie bands, including Balloons (since 2002), L.E.D. (since 2009) and the improvisation unit R(L)N3 (since 2012).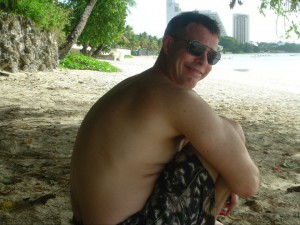 Robert "Bobby" Gustafson is an American who now lives in Taipei and runs a company making pet shampoo, Pet Dew, that removes odors from dogs for up to one month, prevents skin disease and is 100% natural. It is currently available in Japan:
http://goodddew.sharepoint.com/Pages/default.aspx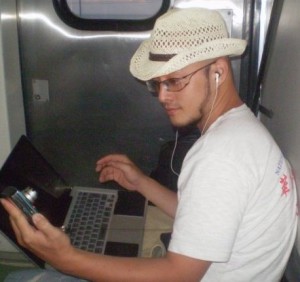 Masataka "Taka" Nagano (永野正貴) grew up between Taiwan and Japan. He currently works as a businessman in Taipei.