Korean Reggae! Interview with NST & The Soul Sauce
Or should that be the "Seoul" Sauce?
Japan has had a strong reggae and ska scene for decades, and Fuji Rock has always been one of it's major showcases. But Korean reggae? Yes, it exists. And now Fuji Rock has that too.
NST & The Soul Sauce is an eight-piece band based in Seoul, South Korea, will make their first visit to Fuji Rock this year, playing on Saturday 7/23 at the Cafe de Paris (1pm) and Crystal Palace tent (3:15am).  Though the band was formed last year as a recording project for Korean recording industry veteran — and a man with a silky smooth voice — Noh Seon Teck, the sound they came up with had so much style and swagger they couldn't just call it a day. So they kept going, gigging around Korea, and now making their first visit to Naeba. To find more about the band, the Korean reggae scene, and the state of Rastifarianism on the Korean peninsula, I caught up with the guys over email for this interview.
 Q: How big is the Korean reggae scene? How many bands are playing authentic reggae or ska music? 
Oh Jeong Seok: The Korean Reggae scene is very small but growing up. There are good band like Windy City, Kingston Rudieska and Seoul Riddim Superclub.
Q: How did NST and other band members discover reggae? Did they visit Jamaica, or have a chance to play with musicians from there? 
Oh Jeong Seok: Many of member used to play reggae and ska music. Noh Seon Teck used to play in Windy City for many years with Kang Teck Hyun (drums) and Simun Lee (Guitar). Oh JeongSeok (Flugelhorn) is one of the original members of Kingston Rudieska, one of Korea's first generation ska bands, formed in 2004. He's also a founder of the [Korean music stores and record labels] Jamaican Music Label and Eastern Standard Sounds. Smiley Song (Percussion, Melodica, vocals) is a producer, A&R and DJ at the same label. He used to play in Windy City and the Korean traditional dub band "I&I Djangdan." Kim (violin) also used to play in the rock steady band, Sugar Come Again. So most of band members have long experience playing reggae music in Seoul.
Kim Oki is a spiritual music saxophonist and a soloist. He is one of the more remarkable players in Korea. He won "Best jazz crossover musician" and  was nominated for "Musician of the year" in Korea's Music Awards in 2014 and 2015.
We haven't visited Jamaica yet, but someday we hope to go there.
Q: Is anyone in the band a Rastafarian? Like, do you guys believe Halie Selassie is God? 
Kang Teck Hyun:  If you mean Rasta is not only a religious tribe, but also people with dreadlocks, we have two nice sets of dreadlocks in the band. If you mean Jah is not only the god of the Rastafari movement or the last emperor of the Solomon dynasty, but also represents the laws of nature, we all believe in Jah. We have a lot of respects and empathy for Rasta beliefs and culture, but we are not interested in the personality of god. We are interested in our roots in this land where we live. That's the message of reggae is to love, and that goes to us beyond race.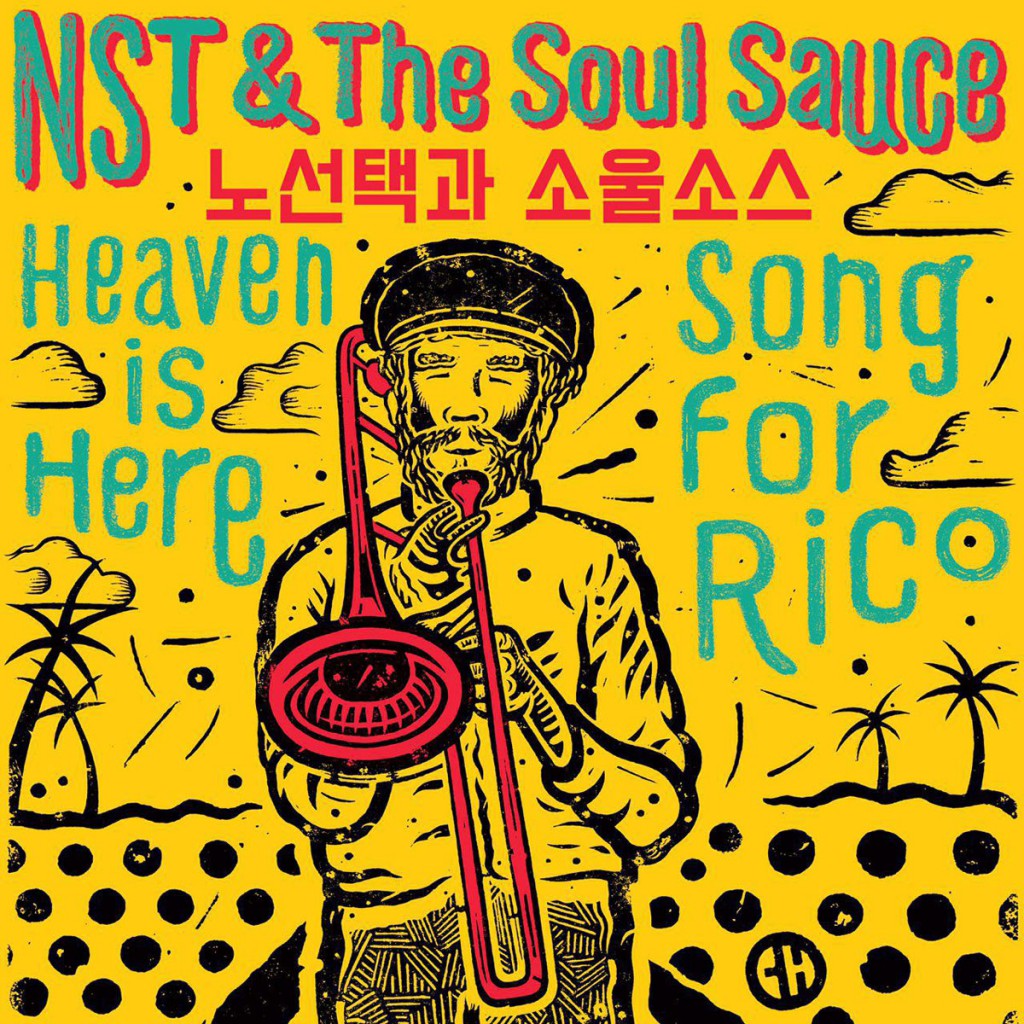 Q: Since NST & The Soul Sauce is just releasing a new album, please let us know something about the background and previous musical accomplishments of band leader Noh Seon Teck (NST)?
Oh Jeong Seok: He used to play in the acoustic gypsy trio Surisurimasuri and the band Windy City. As part of Windy City, he performed at SXSW, Canadian Music Week and Sierra Nevada World Music Festival. Last year he released his first solo album, Low & Steady. NST & The Soul Sauce basically started out as members of his solo album recording sessions, and we decided to make band. So it became NST & THE SOUL SAUCE
Q: Did you guys have any direct connection to Jamaican trombonist Rico Rodriguez (1934-2015)? Why is the album dedicated to him?
Oh Jeong Seok: No, we do not have relationship with him, but I always get inspiration from his music.
Noh Seon Teck: After Rico Rodriguez passed away, one day some melodies came to me while I was listening to his album, Man from Wareika.
Q: For a couple songs on the album, there are multiple versions, a standard version and a dub version. However, the liner notes say "each track was recorded one take with no overdubs". So does that mean the dub versions were also one-take recordings!? In that case, how did you get the muffled, fuzzy bass sound? Because those tracks really sound like King Tubby or something from that era. 
Kang Teck Hyun: Yes, the dub version of "Song for Rico" was worked as an analog one-take. We used the EQ on on a Tascam 388 and two  oooldie (but goooodie) effects. The console EQ has always been a favorite for effects. One-take recordings without overdub can be limiting for dub in a way, but it can also offer more possibilities than limits sometimes.
Smiley Song: The song "Heaven is Dub" was not recorded one-take, it was overdubbed. The spring reverb sound from the original recording was kept. The delay sound was recorded through an outboard, and phaser and reverb were controlled with a sequencer program via midi controller, like a live dub. The drum was recorded through microphones for the other instruments, so the drum tracks were muted on purpose and controlled by increasing the levels bit by bit to create tension.
Q: Anything else you want to say to the fans at Fuji Rock? 
We are NST & The Soul Sauce! You guys are main menu at this Festival! Let's make a good meal of Soul!
Q: One last thing! Please list all band members and instruments ~ thanks

Noh Seon Teck : Bass, Vocal
Kang Teck Hyun: Drums
Simun Shai Lee: Guitar
Smiley Song: Percussions, Melodica
Kim Oki: Saxophone
Oh Jeong Seok: Flugelhorn
KimViolin: Violin
Yun Seok Cheol (Keyboards)
PHOTOS: Courtesy of the band
TEXT: Dave Frazier