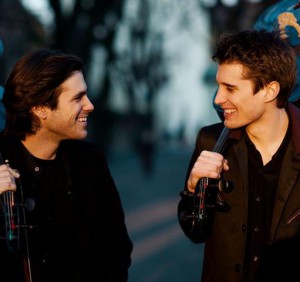 When thinking about which bands to check out at Japan's premiere rock festival this summer, a pair of classically trained cellists might not be at the top of your list, but they should be. 2Cellos are no ordinary cellists and their main stage set Sunday should be a sight to behold.  This pair of young men hailing from Zagreb, Croatia are taking the cello places no one ever thought possible. They're bringing the instrument out from behind the stuffy, often pretentious atmosphere of the orchestra setting and showcasing it on the main stage, attracting millions through the Internet and rocking summer festivals around the world.
While many of their peers use the Cello to interpret the works of Mozart, Beethoven and Brahms, these boys jam out on the cello ripping through tunes by the likes of AC/DC, Guns N' Roses, Nine Inch Nails, Muse and more. They rose to fame in 2011 with their YouTube video featuring an amazing cover of Micheal Jackson's hit Smooth Criminal. The video quickly gained 3 million views within 3 weeks (currently at around 20 million) and the world took notice. A guest spot on The Ellen DeGeneres Show and an invitation to join Sir Elton John on tour and the rest is history. 2Cellos became a hit and for virtuosic cello rockers, Luka Sulic and Stjepan Hauser things would never be the same again.
Since 2011 the pair has recorded 3 albums, appeared on countless talk shows, collaborated with loads of famous musicians all while bridging the gap between classical, pop, rock and everything in between. They've had great success here in Japan also. The boys were featured in a Japanese mobile phone commercial 3 years ago, which helped their second studio album peak at number one on the Japanese charts. They've impressed audiences with their live show the world over, playing some of the most famous venues and festivals. With Fuji Rock celebrating its 20th anniversary and continuing to thrive on musical diversity, it's not surprising to see 2Cellos on the bill this year. Ahead of their performance next month we got a chance to chat with one half of 2Cellos, Stjepan Hauser, about 2Cellos success, their take on Japan, their upcoming Fuji Rock set and more. Check it out below and make sure not to miss 2Cellos set Sunday on the main stage at Fuji Rock playing before the likes of the Red Hot Chili Peppers, Ben Harper and more (don't be surprised to hear the boys drop a Chili Peppers cover or two in the process).
FR: You found success playing arrangements and renditions of popular songs. Do you feel this was necessary for the success of 2Cellos? How do you choose your songs? Do you feel like certain songs are better suited to the cello, or that anything would work?
2C: Of course it helps massively if we are covering popular songs. For example our decision to cover 'Smooth Criminal' was a huge success and although much of its success is rightly ours, the fact that it is a cover of the legend Michael Jacksons song also has a part to play in the reaction it had! In terms of choosing our songs, its very easy, we have to like the song and the song has to sound good on cello!
FR: There's been a few original songs on your albums, do you write a lot of original music that simply doesn't make it onto the albums? Have you thought to do an album completely of 2Cellos original music?
2C: We occasionally try out some of our own stuff but for now we want to just stick to doing covers- who knows for the future though!
FR: You've worked with some legendary musicians through the years from Elton John to Steve Vai, Lang Lang and more. How has it been working with different musicians? What's the collaboration process like? Do they usually reach out to you or vice versa?
2C: It has been incredible and we feel truly honored to have had so many amazing experiences.  For example with Steve Vai it was like a dialogue between cello and electric guitar, which is very unusual to see! He would take our bow and start to play the guitar with the bow and Elton John, of course, is exceptional at what he does. He's one of the most hardest-working musicians ever- he's 67 and it's just incredible to watch him every night give 120 percent. He is a living legend and it was like a dream to collaborate with him. In terms of the collaboration process it all depends on the situation; sometimes we reach out to other musicians and other times they get in contact with us!
FR: You've found success and great reception in Japan basically from the beginning of 2Cellos. What are some of your favourite things about Japan or Japanese culture? 
2C: We love so many things about Japan, everything is different there, it's like a completely different world, different planet! We like the culture, the tradition, people are so kind and organized, the food is amazing, we love it.
FR: Who are some of your favourite Japanese artists or favourite Japanese tunes? Do you have a Japanese artist you'd like to collaborate with in the future?
2C: There is a great movie composer from Japan, Ryuichi Sakamoto that we are keen on collaborating with, he wrote some gorgeous movie themes
FR: You've played all over the world in numerous venues and festivals, what are some of your favourite, or some stands-out memories over the years? Do you prefer the concert hall setting or the open air festival?
2C: Every concert is a special and different experience and it is hard to point out any.
FR: What can we expect from your set at Fuji Rock? Will you be performing with additional musicians like drummer Dušan Kranjc?
2C: You will have to wait and see-we don't like to give anything away before we perform as we want it to be a total surprise! We hope it will be a fantastic performance filled with energy and passion!
Text by James
Photos copyright 2Cellos