How To Do Fuji Rock Sustainably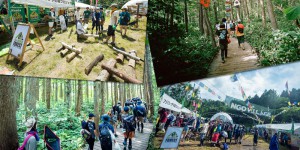 As we're approaching the one month countdown to Fuji Rock, the excitement is growing day by day. Good music, good food, good company, all whilst basking in the beautiful scenery of Naeba, what could be better than that? While we all slowly start to prepare for the festival, let's take into account some ways we can make this years experience more sustainable.

It is largely known that music festivals contribute to great amounts of single-use plastic waste, food waste among other kinds of waste including emissions and energy usage. This is not going unnoticed by music festival organizers around the world who are actively working on creating a more climate positive experience. Fuji Rock in particular is known as one of the more environmentally-friendly festivals in Japan and includes "respecting nature" as one of it's core beliefs. The experience of Fuji Rock is not solely about music but also about nature, the two are not mutually exclusive and therefore treating both with respect is at the upmost importance to Fuji Rock.
So in preparation for the upcoming festival, here are a few ways you can reduce your carbon footprint.
1. Travel eco-consciously to the venue
Believe it or not the trip to and from the festival is one of the biggest carbon footprint issues with music festivals worldwide. Luckily in Japan, public transport is one of the main modes of transportation, which many people will choose. For those taking cars, try going in a group or carpooling. Fuji Rock has listed on their website many different ways of getting to the festival including bus, shinkansen, etc.
2. Limit your single-use usage 
Instead of purchasing drink after drink at the festival, which will most likely come in a single-use plastic and/or paper cup, why not bring your own reusable bottle? You can always ask the food vendors to fill your reusable bottle instead of giving you a new cup each time. You could even do this with plates, utensils, etc.
Let's also talk about wet wipes. While they may be perceived as a festival essential, they most certainly are not the most sustainable product in the world, seeing as they're single use. How about switching out those Gatsby Wipes for a towel and a bottle of hand sanitizer instead? You'll still be squeaky clean and ready to dance, eat, do whatever your heart desires.
In Naeba, plastic cutlery, plates and containers are recyclable. But considering the volume that the weekend will accumulate, it is a much more sustainable option to cut back on the need to recycle at all, and take matters into your own (eco-friendly) hands!
3. Bring Everything Home With You
This should be a no brainer, but unfortunately, a lot of festival goers opt for an easy commute home which sometimes involves ditching bulky items at the festival such as tents.
On the last day, pack up everything that you brought with you to the festival and bring it all back home. Brownie points if you clean up any rubbish that wasn't yours. If you got a cheap tent or don't have a place to store it back at home, you can either give it to a charity shop, to a friend, or sell it on Mercari and make some extra bucks!
4. Respect The Festivals Commitment to Sustainability and Follow the Rules 
Last but definitely not least, respect Fuji Rock's rules and guidelines which include their commitment to sustainability and preservation of Naeba's nature. The opportunity to attend an amazing festival in such a beautiful location is a blessing, so let's pay it forward and treat the environment with that same respect.
The excitement and anticipation for Fuji Rock is very much in the air, which can make it easy to over look things like sustainability. It's important to be mindful of our environment and what we can do to protect it, we are partying in her backyard after all.
(Photos taken from fujirockfestival.com)
Written by: Karen