Fujirockers talk to The Internet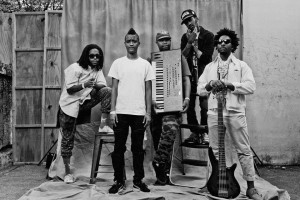 This group of west coast neo hip-hop, soul-funkers is finally getting its dues and is making waves both at home and here in Japan. The Internet started some 5 years ago when founding members Syd Tha Kyd and Matt Martians started making tunes together through the internet. After putting in work in the underground scene collaborating with L.A. based alt. hip-hop collective Odd future they finally found mainstream success with the release of 2015's Ego Death. Their third studio album peaked at number 9 on the US Billboard Top R&B/Hip-Hop Albums and was nominated for a Grammy in the best urban contemporary category.
The Internet has also found success here in Japan. They played their first live show in Tokyo to a packed Liquid Room back in January. They also received a nod from Japanese DJ/producer/tastemaker Shunya Okino (of Kyoto Jazz Massive) in his annual Jazz aint Jazz awards on InterFM. He nominated The Internet for best new artist and vocalist Syd tha Kyd for best female vocalist. We reached out to Syd ahead of their Fuji Rock Festival appeance next month for a short chat about their newfound success, thoughts on Japan and more. Have a read below and don't forget to check out The Internet at Fuji Rock this summer playing The White Stage on Friday evening.

FR: You guys have been around a while as The Internet (specifically Syd Tha Kyd and Matt Martians) and even longer doing work with Odd Future. For some Fuji Rockers unfamiliar, can you give a brief history of how The Internet came about? How did you make the transition from a couple of producers doing work with Odd Future to the full band you are today?
Syd: We became really close and started making music. Then we put a band together to perform it. The rest is boring.
FR: The Internet really seemed to gain notice with last year's Ego Death. What do you think it is about Ego Death that brought The Internet worldwide recognition?
Syd: I think it's just a great piece of work. I think people appreciate it because it's different, yet it feels familiar. I also think we've finally figured out who we are as a band, and people can feel that. They can tell when you know who you are.
FR: Is it harder having this newfound fame as a musician? Do you feel more expectations from people now? Do you prefer lurking in the underground or does it feel good getting recognised for years of hard work? 
Syd: It feels great. I've been working with some really awesome people lately, people I never would've thought I'd work with. And while it was intimidating at first, I was ready. I'm finally getting comfortable with my abilities, so I'm trying to take advantage of that and jump at all these opportunities.
 FR: We saw you here in Japan back in January at Liquid Room in Tokyo. How do Japanese fans compare to others around the world? How many times have you been to Japan? Do you have some favourite places or things to do in Tokyo or Japan?
Syd: Japan was one of the coolest crowds ever. The language barrier doesn't seem to matter to them. They're still vibing, still dancing, still screaming. That was my second time there but the first time for the rest of the band. My favorite thing to do in Japan is go shopping. I love the style there.

FR: Do you have some favourite Japanese artists or tunes?
Syd: No. I have a hard enough time keeping up with music in English.

FR: What does it mean to be playing at Fuji Rock festival this year? What are your impressions of the festival?
Syd: It's exciting. We've never been. I'm interested to see what a festival in Japan is like.
FR: What can fans expect from your set at Fuji Rock?
Syd: Expect the same energy you'd get from an Internet show. Come ready to sing and dance.
FR: Any message for the readers?
Syd: Thank you for your support!
Text by James
Photos copyright of The Internet and Roger Kisby