Kikagaku Moyo's Final Farewell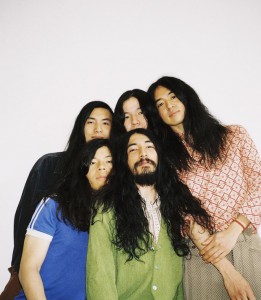 Formed in the summer of 2012, Japanese psychedelic rock band Kikagaku Moyo has gone from busking the streets of Tokyo to selling out major venues and festivals worldwide. The 5-person group is planning to go on an indefinite hiatus after one last international farewell tour across the global stage. Kikagaku Moyo end their music journey with final album 'Kumoyo Island', which brings you on one last euphoric trip to the band's imaginary world, consisting of phonetic sounds, eerie synths, hypnotic soft whispers.

Kikagaku Moyo, which translates to "geometric patterns",  have produced over 11 albums between both their own music and that of others.  Out of these 11 projects is 'Kumoyo Island' which the group returned to the original studio in Tokyo where they recorded their earliest work.  Fusing elements of folk, German rock, and psychedelica, the group's lyrics mostly consist of invented sounds that weave together in strange yet meditative ways. While psychedelic rock can be known to be quite an intense genre, Kikagaku Moyo's sound is more worldly and ambient in comparison. The group's drummer Kurosawa notes that "Japanese psychedelic bands kind of imagined what is psychedelic culture not knowing and not really experiencing exactly what happened in San Francisco, for example, but kind of imagining … and then trying to create our original."
In 2017, Kurosawa (drums) and Kasurada (guitar) relocated permanently to Amsterdam which helped put Kikagaku Moyo on the map and more specifically in the European scene. A few years later when Covid hit, all members of the band were living in Japan together for the first time since their early Tokyo share house days. This had a huge influence on the final album, which they recorded during this time.
Kikagaku Moyo – Gomugomu (Official Music Video)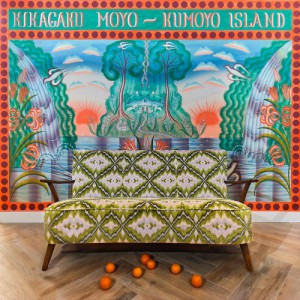 'Kumoyo Island' closes the book with – what is almost hard to summarize in a few words. As with any project from Kikagaku Moyo, each song takes you on a different journey, creating an ultimately dreamlike and fun experience. Where the first half of 'Cardboard Pile' is fiery and almost metallic, 'Nap Song' brings you back down with sweet ambient folk vocals. The album, which constantly switches tempos, sounds and styles, is a true work of art that honors the decade-long music journey of the group. 'Kumoyo Island' is the band's parting gift to us fans who have truly enjoyed the "trip".
Kikagaku Moyo's Friday, July 29 set at Fuji Rock might be one of your last chances to witness the group live – so be sure to not miss out, and say your farewells.
(Photos taken from Kikagaku Moyo on Instagram)
Written by: Karen