Japanese Breakfast's "Secret" Double Life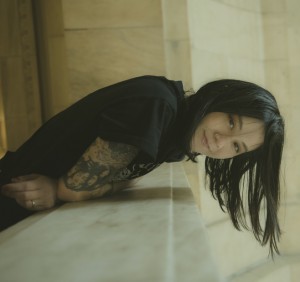 You may know her from her Grammy-nominated band, or maybe you know her from the many music videos she has directed, but not many know that Japanese Breakfast's Michelle Zauner is also a distinguished author!

Even from seeing her full name rather than her stage name, you may recognize Zauner as the author of the New York Times Notable Book of the Year Crying in H-Mart: A Memoir. This book started as a viral essay on The New Yorker in 2018 and was then later turned into a full length memoir published in 2021. Since then, the book has captured the attention of many with its relatable discussions about love, loss and grief. Crying in H-Mart: A Memoir follows Zauner's life as a Korean-American and how she processes her identity, especially after the loss of her mother. These themes of identity are so impactful because of the growing population of multicultural groups around the world, particularly Asian-Americans. Not to mention the lyrical writing is just as gripping as any of Zauner's melodies.
Japanese Breakfast formed 2013 and released its first album Psychopomp in 2016, right around the time when Zauner's professional writing pursuits began. In fact, Japanese Breakfast's albums follow a narrative path that is parallel to the life events discussed in Zauner's memoir.  Psychopomp was written while Zauner's mother was fighting cancer and Soft Sounds From Another Planet was written about her emotions following her mother's passing. Now her newest album Jubilee is an inspiration for happiness after dealing with pain from the past – something certainly worth celebrating! Jubilee's unapologetic optimism perfectly rounds out the band's narrative thus far giving Japanese Breakfast fans hope and anticipation for what is to come next.
There is a lot to look forward to with Zauner's creative pursuits considering Crying in H-Mart: A Memoir is her first ever book and it is already slated for a film adaptation as of June 2021. Zauner's musical success in Japanese Breakfast only seems to be growing as well!
An act you don't want to miss out on, be sure to check out Zauner and Japanese Breakfast on Sunday, July 31st at Fuji Rock 2022!
Text: Mika C.
Photo: http://michellezauner.com/