A long interview with Masa Hidaka, chief producer & founder of Smash : What are his thoughts about the postponement of Fuji Rock Festival…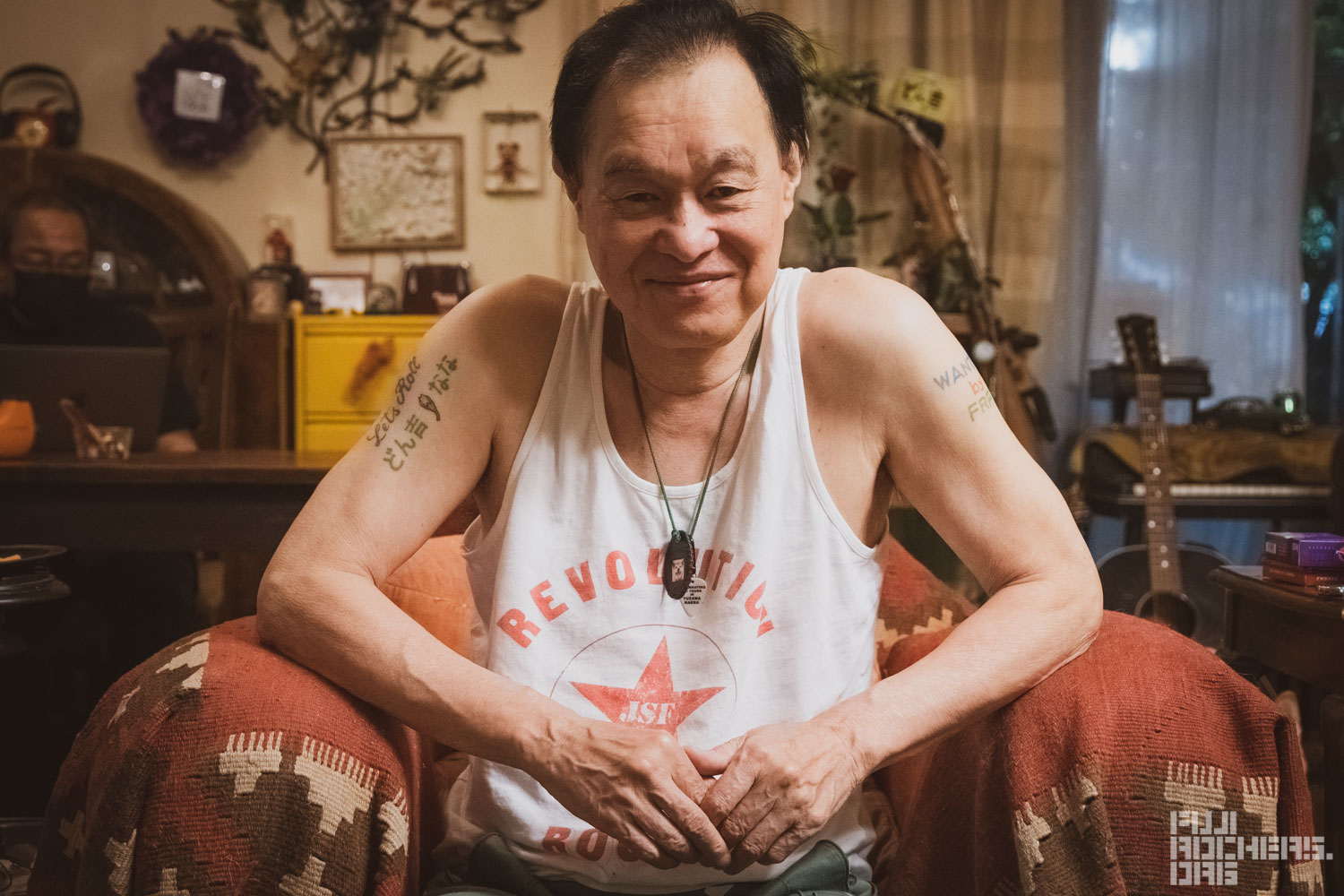 We all thought there was a possibility that there may not be a Fuji Rock Festival this year, but hearing the news of postponement and facing to the reality that there is no chance of having a magical experience in Naeba in this summer, may be a shock to many. Can we say "No Fuji Rock, No Life"? For Fujirockers, it is the highlight of the year and the disappointment is immense.
 I wondered how the staff at SMASH would take this news? After all, they won't be just taking a break for Fuji Rock but for many concerts they had already been scheduled were either postponed or cancelled due to COVID-19. Is the absence of live music & no day to day business really making them depressed? And what is the mood of SMASH founder Masa Hidaka?
On my visit to the SMASH office, I was surprised to find the atmosphere upbeat and lively. Because of the coronavirus epidemic, l couldn't visit long with them, but in our few words and gestures through the window the mood seemed upbeat. And when I later had my interview with Masa, he showed the same state of mind, life as normal!
"At the beginning, I was committed to holding the festival without a doubt. But in the end, it became impossible to hold the event. We were going to make an announcement at the end of June, but it is better not to wait anymore. Even if could manage to get tens of thousands of people, we would have to face to some kind of bashing of the media without a doubt in one hand and on the other it would cost a ridiculous amount of money to disinfect everything. Not only that, but we have to remind festival goers to "please keep 2 meters apart"? Could we ask that to the people? Do you think we can make a fence for that? "
Masa continued laughing and talked about other matters such as the need for foreign artists to receive a visa to perform in Japan. Typically this takes a couple of months to obtain. Moreover, it is unclear how immigration restrictions for overseas artists and even Fuji Rock fans coming from abroad would be treated. If you consider this, even though Masa tried to hold the festival at the scheduled date until the very end, it may have been impossible.
Health of our fans is the most important thing
"I received encouraging emails like, "Fuji Rock is a Japanese cultural asset." Or "please don't stop." Every time I meet a festivalgoer they tell me something "I'm saving money for this" or "I'm always make a plan of vacation for this" or "I've been adjusting my working schedule for Fuji Rock." Considering all these people, it's really painful, of course, to postpone the festival but it was time to make a decision."
No matter what, the first thing Masa considers is the viewpoint of "Fujirockers", those who look forward to Fuji Rock every year. At the same time, recent events have led him to think about other matters related to history, the world & civilization.
"The human race has been senile. With the advancement of civilization and technology, human beings have gone to places where we should not go. In the remote areas of Africa or wherever, marshes in primeval forests and other places that we should not enter. We even touch things that we are not supposed to and have even brought it home with us. It has always been this way. Christopher Columbus brought sexually transmitted diseases from the Americas to Europe, Napoleon made underground water and drained bacilli into the river. Even a Spanish influenza outbreak started when the US sent soldiers to Europe in World War I. We have overcome various things and plagues. Now the earth gives us a warning like "enough is enough." Maybe in future someone goes to outer space and something brought back in may destroy all of us. I remember a song of Hitoshi Ueki, "Yes, that's the end"… You would not know this song though. It was in March of this year, I think, no one might have thought that this would be a big deal, but I thought "This is it". What Nostradamus was talking about. (*Nostradamus prophecy was a best-selling book in 1973 that predicted humankind would be destroyed in July 1999.) Ice is disappearing from both the North Pole and South Pole, and even though it was a global warming, China and the US are acting like "Who cares?". Well, a punishment is bound to be handed down to us, don't you think? Thinking of all these things, mankind has created this crisis."
When did you start thinking about the difficulty of holding this year's festival?
"I've been thinking about this for a long time, starting many months ago. It's always the case with planning, but I make the best and worst case scenario in mind and then give my decision. Even if all of the people around me said impossible, if I decided to do, then I would do it. Who cares? This is me and my attitude which comes out of my character. About this time, to be honest, it was not difficult for me to judge the situation this year. Of course, I'm really worried about the locals in Naeba at this time. From last year to this year, there was little snow in Naeba which is well-known as a skiing resort, and there are some ryokans had experienced bankruptcy. Of course, all hotels and ryokan are sold out during Fuji Rock period and they were asking like "Would you please manage to go ahead?". Not only that, we have a direct impact on the people working for the whole things. Now Fuji Rock Festival is not just a music event, but also involved in local politics and live, and taxes and the economy. The festival has a big impact each year and these come into our considerations. However, the overriding concern was the health of our festival goers."
On the other hand, what is the impact like to your company? The damage caused by the postponement of Fuji Rock may not be small, and for the past few months it has been impossible to have any live shows at all. Of course, many people are worried about the impact on SMASH and someone was talking about possible bankruptcy. In response, Masa laughed, "I guess our staff are happy 'cause they don't have to work." One staff member in attendance responded back to him "I'm not happy," but it doesn't matter to Masa.
"What I was most worried about was the people & companies working for the equipment related to various stages. Thinking about all the huge amount of money involved and they would have to loose it because of postponement. But there were no complaints at all and hear some saying, "We feel sorry about this which is not about money but we would miss out on the fun of working there. The same response was from musicians while they adjusted their plans along side of Fuji Rock, for example, with a an album release as such and all of their promotion plan is fucked up. Especially this year, nobody can do nothing anywhere. "Keep the social distance of 2m?" No way! No shows are happening now and all of the venues are also struggling. Well, I hear news today that Tokiko Kato, a veteran singer & songwriter and one of the regular acts of Fuji Rock, decided to go a head for a show shortly in spite of the fact that there are so much difficulties waiting for her. It is not a matter of money at all to her, but she knows that music gives encouragement to people at such times. I give maximum respect to her. If this situation continues, venue seating will be reduced by half, which will be hard, but for those small venues, it would be impossible."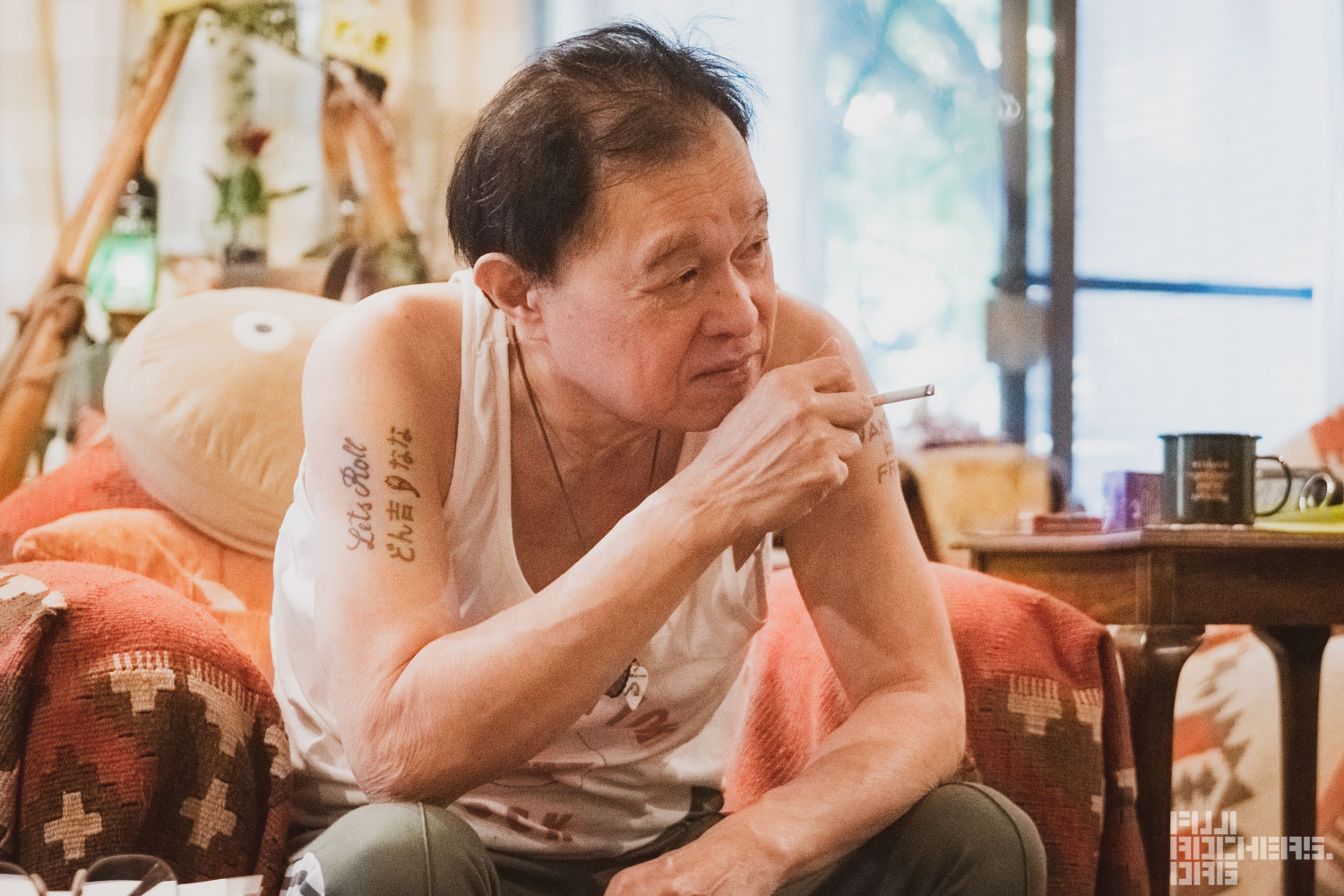 This one of those trials or walls to get over for me.
It seems he does not care that much about his own company's financial state caused by COVID-19, but kept talking about his philosophy.
"Whatever it might be… a good thing or a bad thing, or a necessary thing or a thing nobody cares about… It does not matter, all are supposed to be sorted out naturally. I don't know what is that or how to, but that was a lesson I got through my life of working and travelling all over the world since I was15 years old. Just learnt I should & could do everything for myself. I don't need to rely upon any others. It is the same for the people coming to Fuji Rock. When it rains at Fuji Rock, you just get wet and you can only take care of yourself. If you can't do that, you shouldn't come and I have asked people like, "Please do no buy a ticket if you can't take care of yourself". I don't think human beings are so bad. You can absolutely rebuild yourself. In that sense, I think this is also a "trial" or "test" happening to me now about Fuji Rock. I feel like I am been asked by someone or something, "Have you been really succeeded?" or "You have done OK by now, but does it mean it would be the same in future?" I feel like I'm been questioned, you know."
In terms of the "trial" or "test" or "a wall to get over & beyond", we had those for the last two years. A typhoon struck year before the last and last year was the heaviest rain ever experience in the history of Naeba. Even at that time, we, who were working in the field, thought that the organizer had to make an incredibly hard last minute decision. We witnessed the staff moving around in response to the situation and fortunately, however, there was no accident. And actually, it seemed as if the fine weather of the next day was a reward to us all of Fujirockers for overcoming the "trial".
"I didn't think it was a reward at all. If I tell you what it was like at the time, I had to make a decision about the heavy rain on Saturday. I told the staff to wait until the midnight, and the rain didn't get weaker by then, all should have been stopped. Well, that's all for that day. Deciding whether to go ahead or cancel, it would be done by the following morning… There are various issues such as scaffolding and above all, the safety of the customer is the most important. I always a kind of have an intuition and… I know I might think too much, but I wondered if anything worse might come. Then, do you remember what happened about Asagiri Jam three months later? It was blown off by a typhoon, wasn't it? I was ready, you know, although I was not there at the time. I always get in touch with people on the scene and they were asking me, "what do you want to do?" It was Tuesday or Wednesday of that week, I think. I was telling them "When I decided, I'd call", but the situation wouldn't change, so the site staff contacted me to cancel the whole thing. So we did. Then I told them "I'm getting there tomorrow", the contact I received from the site the following morning saying they have withdrawn all and completed". The guys working there were so smart & quick to remove all the stuff that I couldn't even have a farewell party nor give any words to thank them."
Is he actually enjoying these "trials"? It seems like he really has been by looking back the history of Fuji Rock. He has been having a series of "trials" even from the beginning.
"I don't say it's a test or trial, but I love facing a tough challenge. That's the reason why I started Fuji Rock, 'cause nobody wanted to do anything like that at the time, did they? That's a big reason. I really wanted to organize a festival in nature and not the city which has all of the conveniences like a coin lockers and flush toilets and everything is taken care of. Also I wanted everyone to listen to music from all over the world. In Japan, where the music industry has been so advanced, there is no one really listens to music never heard of. I'm not saying like "Listen to polar bear's music in North Pole or check penguin's dance in Antarctica". I'm asking you all to get interested in things more than music, like damn stupid people could make, flushed out of TV or mass media. All look the same like wearing a uniform with same kind of faces. Perhaps that is a charm in one hand, but on the other, it gives us a harmful effect of losing personality "
The next year, I'll make it massive!
Bringing the interview back to this year's decision to postpone, I wonder if all of the staff shared the same feeling? Also wasn't there anyone sharing some feelings of frustration or disappointment like Fujirockers? One of the staff said, "Oh, I did," and the other said, "It was far more than that. The reason of the delay in the first announcement was because we all were trying to make it happen by going over all of the possible outcomes." How did it appear to Masa?
"Well, of course there were various things that led everyone at the office to worry about. Well, each one thinks something and some fear the worst. But nothing directly came into me as, I suppose, all the guys at the office think it would not make a big change even if they tried. I had nothing like frustration nor disappointment in me on the decision at all as I was having the worst scenario anyway to begin with. This year's suspension is just that, but I'm gonna make it far more massive next year. It might have been a tough decision, but then why not forget about it by making the next one much better and more enjoyable? That's how I look at it like it was a decision to make it better. It is like the theme song of "Mitokomon". "Sometimes a life has a joy but a pain too". Perhaps younger generation knows nothing about this TV drama series, but that is what the life is all about, "If you have a bitter life, you have a lot of fun," he says (laughs). The last year tons of water poured down on our head and this year replacing that to disinfection? Whatever it was, I just am really sorry for the festival goers, but at the same time, I believe that those who come to Fuji Rock from year to year would understand and change their mode to the next year. I would appreciate it if you could understand how to turn difficult times into fun times. If you keep a this year's ticket for the next year, there will be a fun present. It's not a big deal, but it's something that you can laugh and commemorate as well as you could be proud of."
Many Fujirockers get tickets to go for a festival of Fuji Rock not because of the performers or line-up but we do care about those, don't we? Since it's postponed, should we expect the same artists next year who have already been announced this year?
"Basically we won't change the lineup. But it depends on the other party, especially because overseas artists are considering world tours and incorporating it. Whether the schedule matches their plans is the key. Some only tour every few years. We will confirm with management and there are worries about visas and viruses, but I didn't get any negative response so far. Above all, if Fujirockers fully understand and accept that this year's festival postponed to the next year without major complaint, I can be proud of Fuji Rock as well as the artists involved. Well, que sera, sera… and whatever will be will be. Is it too irresponsible for me to say that? But what change could it make to worry about the things you could not figure out? It's more important to live one day at a time hope for the future that all will be well. All do not turn out well all the time and if or when you face to something did not, then think and do to get over it. I've got hell of lots of ideas all the time anyway. I don't know if I have to message everyone rather than the official statement, but what I can say right now is I am looking forward to Fuji Rock next year and we will try to double it but we can't triple it. That's about it. I hope everyone can have fun and survive until next year."
Understanding the whole story behind the decision, but it will be 14 months until next year. Isn't there anything happening? What about the Fujirockers Forest or boardwalk there? It would be nice if you could make something happening.
"There are lots of things I want to do, things I can't do. No matter where… in Naeba or anywhere else, but unless this coronavirus chaos is over, nothing you can make a plan of. I can't say anything right now and I don't know anything, but there are various ideas for Fuji Rock."
Actually, it is also said that there are people on SNS who are already making the move to Naeba during the festival in August this year. I have no intention of interfering with what an individual does at all. It must be because of love for Fuji Rock and Naeba. However, the most important thing is the local people. Their intentions and feelings should be given priority.
"I know, I know that there are so many customers loving Fuji Rock and I have met and talked with hell of a lot of people like that over 20 years. I've seen people enjoying the festival or being there even if it rains or the sun shines. I'm so glad to see everyone's faces with full of smiles. I've been saying "let's love & care each other at the festival" since the beginning and it is happening there. Being in Tokyo, you may always making a complaint and feel like irritated by the others, and so on. I've never seen anything like that at Fuji Rock even if you are right in the middle of jam-packed people.
No matter what comes, we could get over as we have done that through "Fuji Shock", the disaster of the very first Fuji Rock Festival. Thinking back times & times over about the sight right in front of me, it was one of the biggest & the most enormous experiences of my life. I'd never forget my decision of cancel at the time till I die. At that time, the staff cried there and, even returning home, it was so hard as the phone kept ringing, and the girls receiving the calls were crying and the media was bashing us so hard"
However, instead of giving up, all of the staff who worked there were determined to continue and have the feeling of "We're gonna make it the better than anything else". We have continued without a rest for 23 years. Even Britain's Glastonbury Festival inspired Fuji Rock, has been having a rest once in some years in history.
"For ordinary people, it's weird that 40,000 people a day can gather in the countryside and having a bloody good fun like enjoying music, dancing or drinking for three to four days. Once or twice at the time of the early days, someone was telling me this was something like a religious cult thing, but this has been going on for more than 20 years in this country. I know there are something similar overseas, but there have been some accidents, riots or heavy crimes happening, but we never had anything like that. I would not say it is a miracle, but isn't it wonderful? Like an old saying, I believe "Out of evil comes good."
For many, Fuji Rock is like a homecoming. At the Red Marquee on the eve of the festival, the first greeting I give to everyone is "Welcome back! , and the crowd responds, "I'm home!" This year, even though we can't make the trip, it may be a good opportunity to reaffirm the value and importance of the festival as our home. Thinking back of my interview with Masa, the conclusion was found in a phrase of a famous Tom Waits song, "I never saw my hometown 'til I stayed away too long"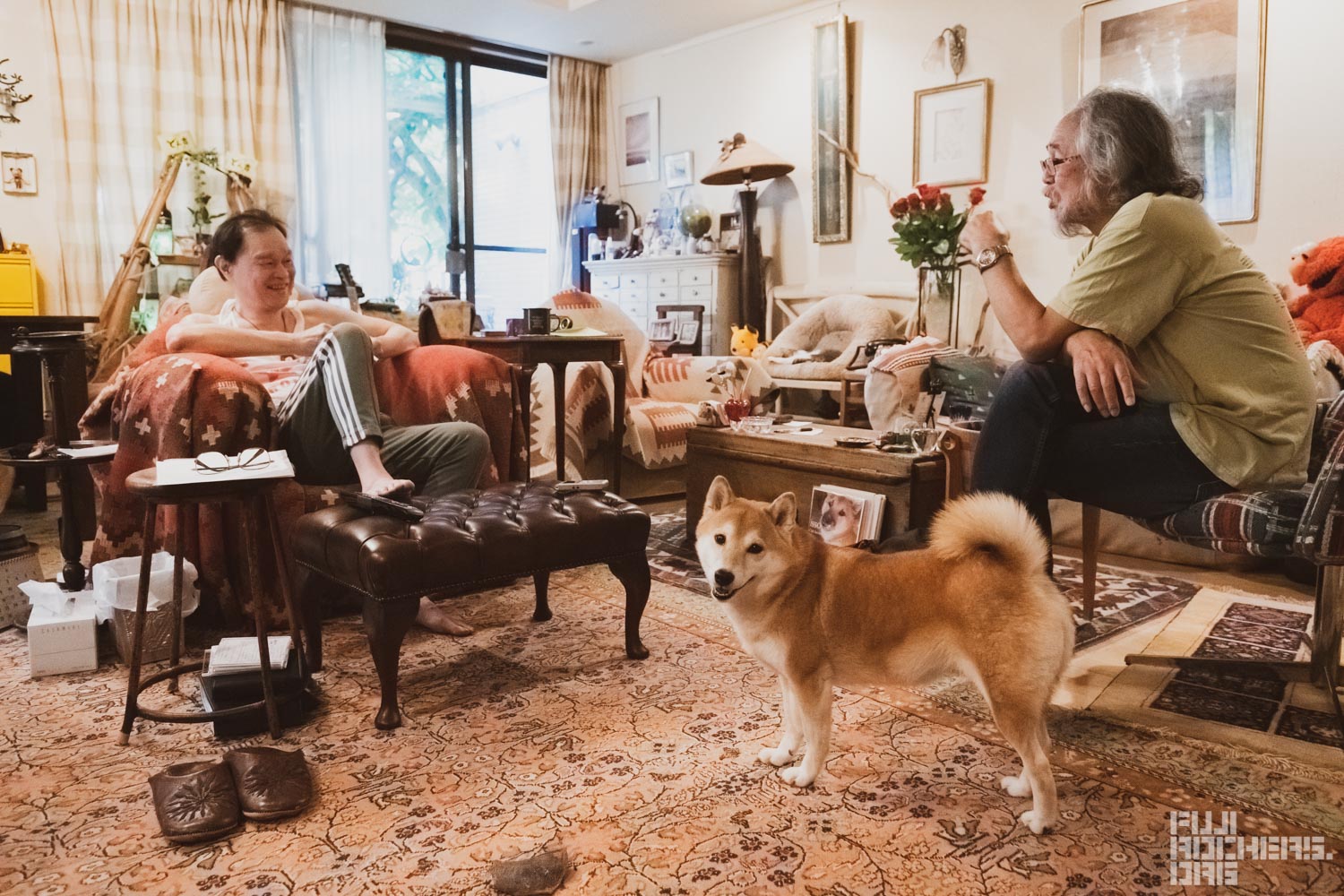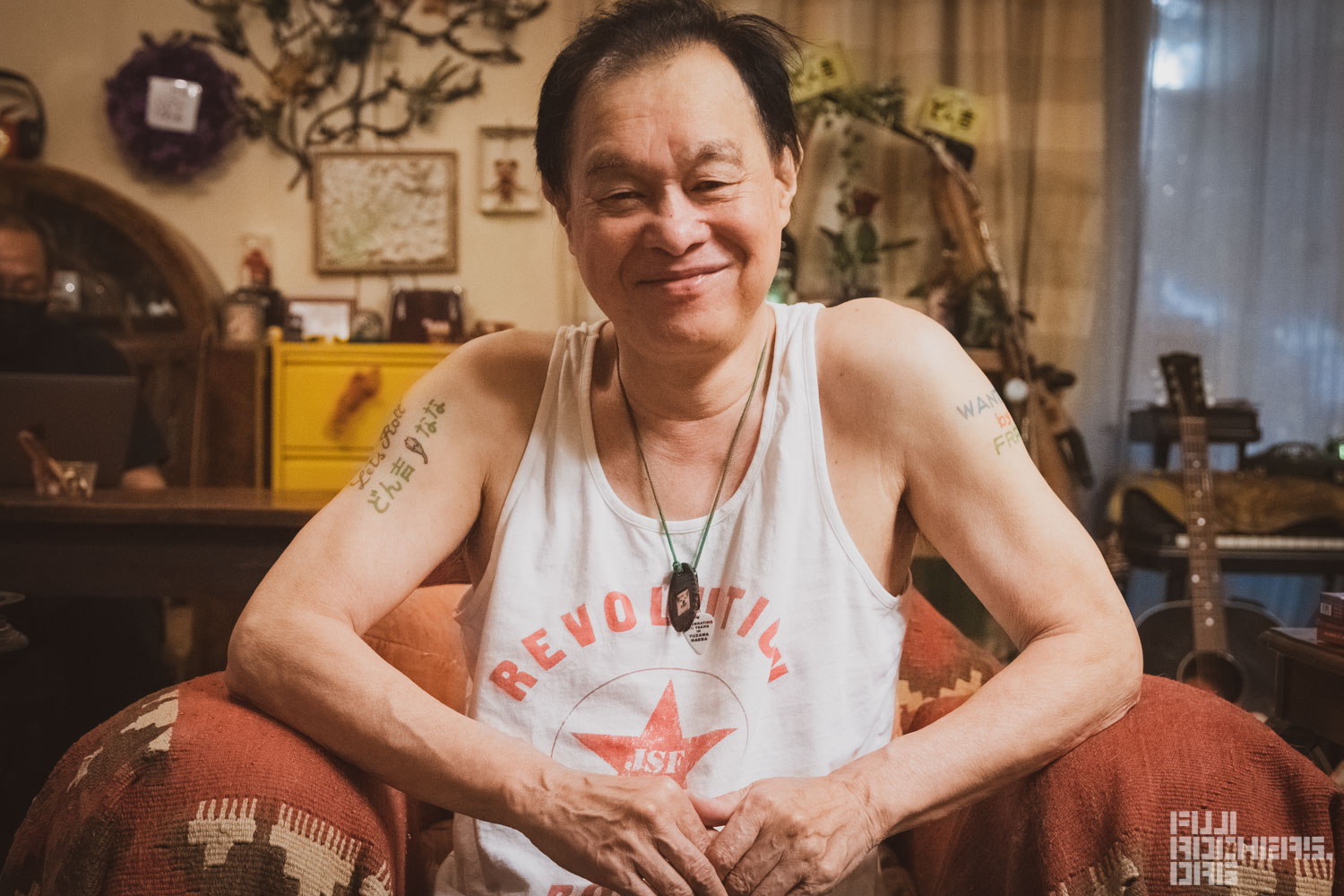 About the interviewer & writer : Koichi Hanafusa
Inspired by Glastonbury Festival in the UK in 1982 while wandering around Europe, a career in journalism & photography began. 1983 after ended a 2 year's of bohemian life there. First meeting Masa Hidaka in 1984 through mutual friends, the two wanted to organize a small festival called Atomic Cafe Music Festival to appeal to "No Nukes" like Glastonbury Festival's support of CND (Campaign For Nuclear Disarmament). Masa & Koichi organized club sessions and concerts for relatively unknown overseas musicians in Japan up till the early 90's. Along with making reports for magazines & papers as a photo journalist, Koichi worked as a TV presenter, radio DJ, book author and even producing records and compilation albums. Since 1982, he has never missed Glastonbury except in 1995 when he was in hospital. He first brought Masa there in 1987 which was the inspiration for Fuji Rock Festival. As one of the founding members of Fuji Rock Festival, Koichi started promoting the festival through the internet. Fuji Rock Express started from the very first festival in 1997 which was marred by a typhoon. After the "Fuji Shock" of 1997, Koichi started an independent web site and on-line community, Fujirockers. The internet presence not only promoted Fuji Rock Festival but also alternative culture as a whole.
Interview / Text : Koichi Hanafusa
Photo : Ryota Mori
Editing / Translation : Sean Scanlan