Best of the Fest: Sean S.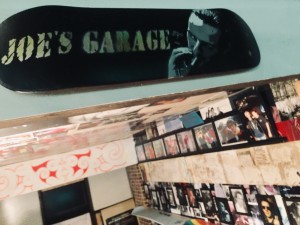 Festival Staff
Saturday's deluge would've done in a lesser festival, but Fuji Rock staff quickly worked to ensure the safety of footpaths and major stages. Measures such as opening up a conference room in the Prince Hotel for campers was no doubt greatly appreciated for those whose tents were waterlogged. And when the sun emerged on Sunday, much of the festival was dry, a testament to ground crews and drainage work which goes on throughout the year. Smash has mastered the art of logistics, everything from providing artists outstanding equipment and stages, as well as new toilet areas for festivalgoers. Continual improvements in all areas of the festival has impressed me, and up and coming areas should be making it on your radar such as Pyramid Garden, Don's Café, and NGO village.
Joe's Garage
I've long championed Fuji Rock's Joe Strummer Memorial, 3-ton European ski gondola which perched princely above the Palace of Wonder. Unfortunately, brutal snowfall in Naeba each winter tossed the gondola around like a crushed beer can. Two years ago, it was flattened into little more than a pedestal for another artwork. A sort of rescue effort was made a few months ago to cut it open and rescue valuable works inside such as handwritten, festival specific lyrics penned by Joe Strummer himself, artwork attributed to him and others, and whatever other seeds of rock and roll history could be recovered.
These items were then lovingly installed into a first-floor stone cellar space of the Swallow Lounge, a ski hotel just outside of Fuji Rock's main gate. For many, the Swallow is as a place of last resort, a pub that never closes, and welcomes all customers, rich or poor. Proprietor of the venue, Jun, is a warm-hearted man who on occasion, allows those down on their luck to crash for free.
A modest sound system was set up at the top of the steps near Joe's Garage this year (no turntable yet) and it's only a matter of time that acoustic performances and other tributes take place here. Pamphlets about the Joe Stummer Foundation can also be had here.
Blue Galaxy
Arguably the stage which pumped out the most music this year came from this Jim West creation which anchors the World Court. West jammed out a 6-hour set on Thursday night and made the venue a safe space during Saturday's downpour, with the only wet sport being a hole in the tent just above the turntable mixer. At just about any time during the festival this stage was pumping out classic rock and tunes and other fare at danceable volumes. Keeping all this music flowing is no small feat, and largely a tribute to programming which goes on throughout the year, recruiting the talents of vinyl record enthusiasts throughout Japan.
West explains that his involvement in Fuji Rock in the early days was that of one of the constructors of various festival areas such as Palace of Wonder, though he found himself bored with little to do once the festival began. Hence the emergence of Jim's Vinylnasium which housed a turntable rig under a 6X3 tent with the audience dancing directly in the elements. For years this modest enterprise soldiered on before getting this now recognizable circus tent. When asked why there is no lighting inside, West responds, "we have thought about and even had some lighting one year but it's not a disco so we wanted to keep it dark". It's this attention to detail and some very fine tunes coming from the turntables which make it a true Fuji Rock original.
Food
This aspect of the festival has been mentioned by others but needs repeating as Fuji Rock continues to offer up fine fare such as authentic fish and chips at the World Court (1066 stall), excellent salty ramen at Oasis, venison sausages at NGO Village (Atomic Café) and a variety of lambchops, pizza, kebabs, and curry.
I largely avoid the best food because of the lines, but have been more than satisfied to eat at odd hours from the less popular stalls. Nary a bad meal could be had at this festival, and it's all quite affordable with meals costing little more than a cup of Heineken. Cooking all this food and keeping it fresh is a credit to all of the staff doing the preparation and serving throughout the four days of the festival.
Don's Cafe
In keeping with the food theme, I highlight one overlooked area which I found myself frequenting on many occasions, Don's Café. Located just outside the back exit of the Prince Hotel this establishment offered full dining service at proper tables, a selection of craft beers and spirits, a live music stage with band performances and DJ sets, and a dog run!
Created in honor of festival organizer's beloved Shina Ibu, a likeness which can be seen in photographic prints, patches and t-shirts. During the daytime, it's a respite for campers making the long walk into the festival, and in the late evening a honkytonk for revelers listening to a local country band pound out a slow downed version of "Straight to Hell" by the Clash.
Text: Sean S.
Photo: Sean S.