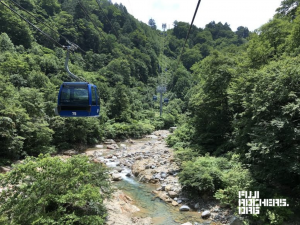 Connecting the main festival grounds below with two small but not-to-be-missed mountaintop stages is a Japanese feat of engineering.
The Dragondola, which was built in 2001 to connect Naeba and Kagura/Mitsumata Ski Resorts during the winter season, is a 5.5 kilometer long gondola taking about 20-minutes from end-to-end. Touted as the worlds longest gondola lift line, it traverses a number of peaks and deep valleys, offering both panoramic views of the festival grounds with deep blue lakes seen in the distance, the later swooping low across cool mountain streams before continuing onto the summit.
Once at the top, you can enjoy the cool mountain air while taking in a performance at the DAYDREAMING or SILENT BREEZE stages. Acts up here are normally laid back, but sometimes danceable, ideal since you have so much space up here to spread out compared to the crowded grounds below. If you don't feel like dancing, you could just chill, letting the beats lull you into an afternoon nap.
Though the ride requires a ticket, which can be purchased near the back of the Red Marquee tent or at the Dragondola station, the trip is well worth the price. Tickets are 1500yen per person, free for children under elementary school age.
The Dragondola is in operation 9:15am-5:00pm daily from the 26th to 28th (may be suspended in the case of inclement weather). Do take note that the last ride back down leaves the summit at 4:30pm.
Text: Park
Photo: Park