Ecuadorian Electronica with Nicola Cruz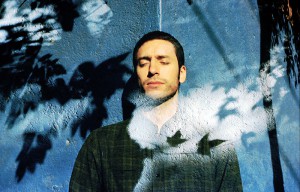 Have you heard of 'Andes Step'? No, it actually isn't a diverse bioregion of South America but rather a new sub-genre of infectious electronica heavily influenced by folkloric sounds and traditions. This is the term french-born Ecuadorian Nicola Cruz uses to describe his music, despite not being a fan of creative labelling, it does accurately sum up his strong sense of place and awareness of ancestry.

Ecuador, a country that is home both to the Andes mountains and the Amazon jungle is a constant source of inspiration for the 31 year old music producer. Whether it be through the traditional stories and instruments of the indigenous people of the region or the lush natural landscape, Cruz aims to harness this organic energy in his own layered productions. But it goes deeper than just making the dancefloor happy, as Cruz continues to draw on traditional influences from his homeland and across South America he aims to pass along these stories and sounds in a more contemporary setting.
Cruz got his first real break in 2012 when Chilean DJ and producer Nicolas Jaar heard his music and took him to perform in New York and Los Angeles. From then on out, it was a steady process of honing and refining his sound, rediscovering his roots and pouring countless hours into the studio. This creative process culminated with the release of his 2015 debut album 'Prender el Alma' which fully cemented his position as a genre-defying voice in the world of modern electronic music.
And now in 2019, Cruz's journey continues as he simultaneously looks to the past, present and future to inform his creative visions. His new album 'Siku' serves as a fitting evolution in this sound he has so carefully stewarded into the modern age. The Siku is a wind instrument of Andean origin, highly symbolic in ancestral rituals and utilizing 2 unique rows of panpipe tuning: arca and ira. In many ways the musical duality of the Siku perfectly represents the deeper motifs of the album, the continual balance between electronic and organic, past and present, local and global. This album is perhaps his most ambitious and far-reaching project yet, drawing on an even wider range of traditional stories and sounds from African, Andean and Hindu origins.
Catch the modern day mystic Nicola Cruz and his unmistakable blend of folkloric electronica at the Red Marquee on Friday night. See you on the dancefloor!
Text: Seanheuristics
Photo: Hanna Quevedo