The Enduring Allure of this Artist from Down Under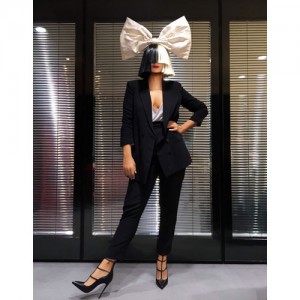 "Despite" is a fitting adjective with which to start a sentence about many artists performing at Fuji Rock 2019. Many musicians on this year's roster have so surely secured their place in the hearts of the masses, that they've graduated from the Hero's Journey and onto a special place akin to artistic immortality. Death Cab for Cutie have secured a slot at this year's festival despite having parted ways with their signature producer and lead guitarist Chris Walla, and Ging Nang Boyz accomplished the same feat despite only retaining the lead singer of their original lineup.
However, the reigning champion of that preposition – at this year's Fuji Rock  – may very well be Sia. Despite the fact that she has largely refused to appear in her own music videos, despite the fact that she used a child dancer to establish the visuals of her brand, and despite the fact that she chooses to sing from the back of the stage – allocating the lion's share of the spotlight to her dancer(s) – the overwhelming demand for her live performances cements her superstar status. I'm even writing this article despite the fact that she's refusing to do any interviews right now.
Sia herself largely rose to the top of the music industry by remaining true to her path despite the many trials that stood in her way. She learned early in the game that she didn't feel cut out for the typical pressures of fame, when a fan accosted her for a photo while Sia was in the process of being told by a friend that they had cancer. She continued to hone her art despite the fact that the 1997 death of her boyfriend  Dan Pontifex sent her – by her own accord – into a six-year spell of alcohol and drug abuse. And, despite her 2010 decision to pull back from the spotlight in order focus on songwriting for others, David Guetta's use of her demo vocals for his 2011 single "Titanium" sent her reluctantly hurtling ever further towards the stratosphere of stardom. 
Furthermore, despite her instance on hiding her face behind large platinum wigs onstage, her April 2016 Coachella festival performance went viral online, and that very performance was hailed as "one of the greatest moments in the [festival's]17-year history". Finally, just as she has persistently delivered exceptional songs despite the obstacles that life has thrown at her, I and countless others will show up to honour her at Fuji Rock 2019 and beyond. As fans, we eagerly echo the slogan of her new fashion line; "I Love You, Keep Going"!

Text: Laurier Tiernan