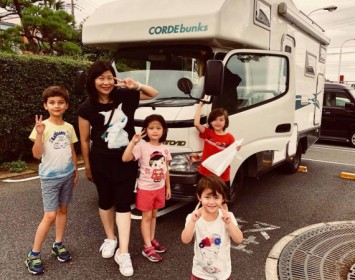 Imagine bypassing railway stations and boarding your very own private vehicle for Fuji Rock. Enjoy the comfort of cup holders, electric outlets, air-con, and bunk beds. Keep your beverages chilled and your rucksack tucked away. Best of all, when it rains, you will be 100% watertight.
As for the amenity that many ask about, "only use it in an emergency" is what the rental lot attendant instructed before we headed off down the highway.
The commode in most camper vans is little more than a simple swappable "cartridge", which you typically get two of for a week-long rental. Considering you might need to eat, sleep, and travel in this vehicle for the next 4 days, it's prescient advice to seek out alternate toileting options. That said, making use of any and all highway rest stops and outdoor porta-potties, or in a pinch, mother nature, is recommended.
The most persuasive argument to for transportation independence is the affordability. Car hire is relatively inexpensive throughout Japan (thanks auto industry!) and camper van rental is no exception. At Japan RV Rental the premium camper van pictured in the above photo is roughly USD250 a day, and gas for the 4-5 hour trip to and from Naeba will cost about USD150 (one full fill-up, and a quick top off). There are a few tolls along the way, but when considering an individual roundtrip Shinkansen ticket costs USD100, the camper van begins to pay for itself. When factoring in the hotel savings, there's little reason not to rent one.
"I am a return user of the camper van" said Mark Thomas whose family is pictured in the photo. He cited the kind and attentive service offed by Japan RV Rental's Andrew Clayton as yet another reason to do it again. "It was a swift in and out, even considering the camper got a little beat up in the typhoon last year." Thomas says the company can provide full English materials, and everything is clearly marked on the vehicle. Each camper van is designed to fit into a typical parking space, making the vehicle easily maneuverable. You might even be inclined to check out other scenic areas in your vehicle but please remember parking along national highways or near the festival before the parking lot opens is prohibited.
Now that you've decided to go on you own camper van outing, who should you invite? Or just how many people will comfortably fit/sleep inside one of these vehicles. According to Thomas, the optimal crew for such an outing is 4 adults and 2 children. The camper van pictured above includes a bunk bed, a double bed, and a table moves away to sleep another 2 people. Should you take on a larger crew, perhaps a pre-arranged sleeping schedule is needed to maximize comfort.
Before you go all in on the camper van, there's still a few details you will need to sort out. First of all, you need a valid international drivers license, or alternatively, someone in Japan to rent the vehicle for you. Secondly, you will have to purchase either a Moon Caravan ticket or a Fuji Rock parking pass. These items are usually purchased in conjunction with your on-line ticket order. For example, parking passes are only sold in conjunction with the purchase of two 3-day festival passes. In the case of Craig last year, he had to repurchase another pair of tickets just to get the parking privilege.
The Moon Caravan area is where most camper vans park. It's just up the hill from the camp ground, and enjoys all of the same amenities. The benefit of this is you get to enjoy the benefits of both worlds, sleeping in a tent in good weather, and the safety of rain proof structure should the heavens unleash themselves. One drawback may be being a little further away from the action, and a longer stumble home at night if you are planning to party till sunrise.
If you aren't lucky enough to get into the Moon Caravan area, there's always the parking lots operated by Fuji Rock. The festival reserves the right to send you to a particular parking lot or area, and generally vehicles are parked close together to conserve space. If you are lucky enough to be parked by the river, why not set out your table outdoors and enjoy some home brewed coffee al fresco the morning. Nearby onsens in Naeba will take care of our daily hygiene needs. And if it does get hot and dusty in the afternoon, what better than a mid-afternoon air-con siesta. A quick jaunt to the parking lot may just leave you properly rested for late night festivities.
Note: Please refrain from drinking and driving. Have a sober driver both getting to and from the festival. Here's when a wife can be very useful!
Photo: Mark Thomas
Text: Sean Scanlan