Fujirockers Interview: Esne Beltza!
Esne Beltza is a large ensemble from the Basque Countries, the mountainous region that rests in the north of Spain and the south of France. Basque is one of the most ancient languages in Europe, predating the arrival of Latin and the Romans and having no relation to other contemporary European languages. People have spoken Basque – or Euskal, as the Basque people call their own country and language – in Spain's mountains for literally thousands of years. So tradition runs deep, and Esne Betlza proudly accepts it, mixing traditional melodies and lyrics of modern Basque poetry with Latin rhythms, punk rock energy and various modern styles: hip hop, reggae, soul, rock, folk and Cumbia. In their own words, their music represents "the journey from the small Basque Country to the large world."
This year, Esne Beltza will play several times at Fuji Rock, including sets on the White Stage and Crystal Palace Tent, a DJ set by band member DZ at the Blue Galaxy Tent, and also a pre-Fuji Rock warmup party at the Radical Music Network on July 25 at Club Asia in Tokyo.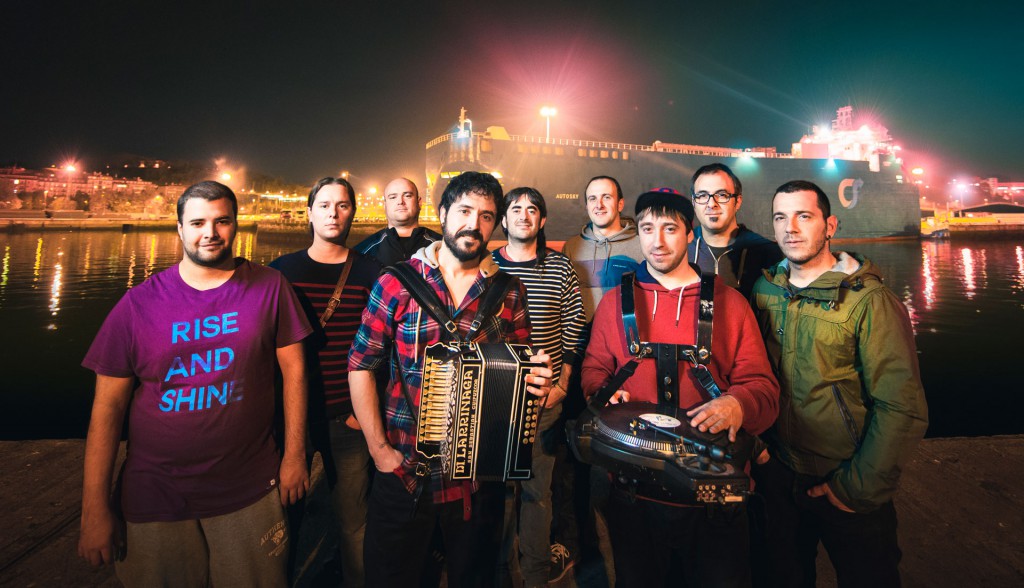 The band formed in 2007, when founders Xabi Solano (vocal and Basque accordion) and DZ (turntablist) were performing in the band of Basque region's most famous rock musician Fermin Muguruza. Fermin in fact gave the band its name, Esne Betlza meaning leche negra in Spanish, or "black milk" –– reflecting what Fermin saw as the paradox of "white" Basque musicians adapting Afro-Caribbean musical forms. Their lyrics, which they describe as "short stories in which pretty word flow" are largely written by the poet Jon Garmendia, who is not a band member.
Esne Beltza last visited Fuji Rock in 2009, following the release of their first CD, Made in Euskal Herria (2008). They have released several more albums since then, but this band truly lives for the live show. "It doesn't matter where they are playing, in a festival with thousands of lights and sounds, in villages parties, in small bars or in Gaztetxea (youth house), the group empties itself on stage," states the band's official intro. "They have recording studio discs, but the group's real reason is on stage. There … they become alive, happy, sad and … sensitive."
Ahead of Esne Betlza's return to Fuji Rock in 2018, band leader Xabi Solano took time for this email interview with Fujirockers.org to let us know what to look forward to on this visit to Japan.
Q: You performed at Fuji Rock one time before, in 2009. What are your fondest memories
of that visit?
This experience was a fantastic meeting of cultures. We enjoyed knowing new people from
all around the world. The public's energy was incredible.
Q: Since it's been almost 10 years since your last visit, what are the major highlights for Esne Beltza from the last few years that your Japanese (and Asia-based) fans should know about?
Since 2009 we have added a new electronic style to our music, always keeping our traditional
vibes. We also incorporated a new member to our team: Pini, a reggae dancehall singer. Since our last visit in Japan, we produced 5 CDs and we are now working on the new one.
Q: Esne Betlza's music pays hommage to the tradition of trikiti, the traditional Basque musical groups, which includes an accordion. Is Basque music the real origin of this accordion music that the world now thinks of when they think of "romantic" Europe, like France and Italy?
You haven't understood the idea yet. Italian workers came to the Basque Country in the XIXth century to build the train lines and introduced the instrument to our lands. Then we adapted it to our tradition and style of music.
Q: How did DZ start to wear his turntable on a shoulder harness. It's really cool, like he's in a marching band. Does he wear that in stage shows, or only on special performances? How did this start? And what was the reason?
The idea comes from a guy from Switzerland who makes portable turntables. However, he only uses it in special performances because it's less precise and quite unstable.
Q: DZ and Xabi both used to play with Fermin Muguruza, and I've been told that Fermin actually gave the band its name, which means leche negra in Spanish, or "black milk". Is Fermin still involved with Esne Beltza?
You definitely got good information! He actually gave the band its name –– we were on tour with him and his band when he had the idea. He is a friend of the band and still collaborates
and helps us. He's a very influential artist in Basque culture and music.
Q: There are lots of political statements in punk and rebel music as it is played all over the world, but in Spain, Basque Countries, Catalonia, and maybe more generally south Europe (France, Italy) and even Latin America, there is a particular sense of a fight against Fascism. Is this because the history of Fascism is more recent there? In Spain, Franco was in power until only about 40 years ago, and military dictatorship is a living memory in many Latin nations. How does this legacy affect your music. For example, your most recent Europe tour was titled "Don't Give Up the Fight". What is your fight?
Music is our way to express our social worries and questions. We actually believe in the right of self-determination, feminism and global human rights.
Q: What else are you looking forward to at Fuji Rock and in Japan?
To share our music and culture, have a great time, and know better Japanese culture!
ESNE BELTZA LINEUP FOR 2018 FUJI ROCK
Xabi Solano: diatonic accordion and vocals
Pini: vocals
Iban Zugarramurdi: drummer
Aitor Zabaleta: bass
Peio Gorrotxategi: keyboards
Jon Mari Beasain: guitar
Jon Elizalde: trombone
Zigor Lampre aka Dz: DJ
ESNE BELTZA: JAPAN GIGS INFO
7/25 (Wed) 6pm-midnight, Radical Music Network at Club Asia, Tokyo
7/27 (Fri) 27:15am Fuji Rock Festival – Crystal Palace Tent
** This set is "Friday night", but the date is technically 7/28 at 03:15
7/28 (Sat) 13:10 Fuji Rock Festival – White Stage
7/28 (Sat) 17:30 DZ (DJ set) @ Fuji Rock Festival – Blue Galaxy Tent